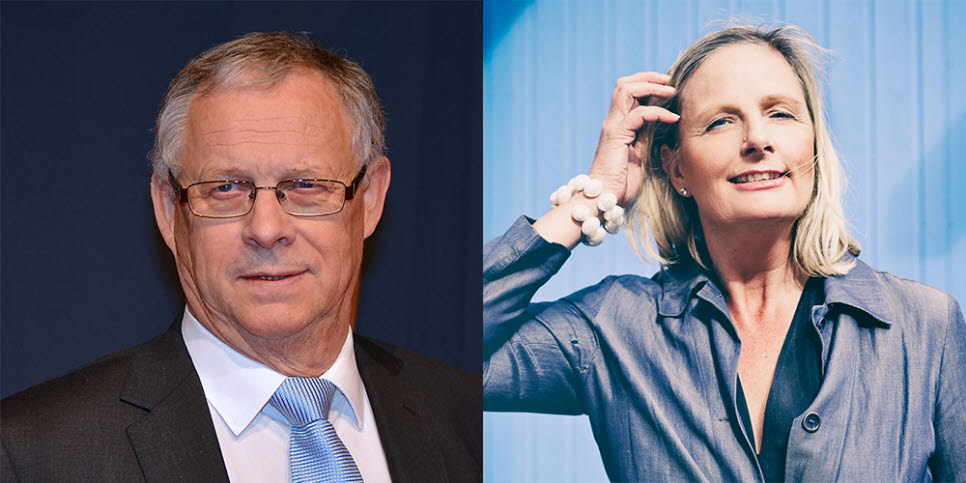 In light of the university's Annual Celebration this autumn, Mid Sweden University has decided to award five new honorary degrees: Fia Gulliksson, food ambassador of Jämtland, Professor Elizabeth Kendall, Professor Bengt Klefsjö, former national team manager Lars Lagerbäck, and Sami inspirer Kjerstin Valkeapää.
The honorary degrees are awarded as an expression of appreciation for remarkable achievements in one of the fields, or for the region, in which Mid Sweden University is active. A person who has been awarded an honorary degree is entitled to use the title Doctor.
- We're very proud and happy to be able to honour such distinguished individuals who have contributed greatly within their fields; for research, in voluntary work, or as a role model and inspiration. What they have in common is that they have influenced and in different ways contributed to Mid Sweden University and our region, say Hans-Erik Nilsson and Susanna Öhman, Deans of the two Faculties at Mid Sweden University.
The new honorary degrees will be awarded 14 October at the university's Annual Celebration in Östersund.
New honorary doctors at the Faculty of Science, Technology and Media
Fia Gulliksson is a successful food creator and entrepreneur combining high gastronomic quality with a strong sustainability approach. In 2010 she was appointed food ambassador of Jämtland. She is responsible for a number of projects and sustainable brands contributing to regional development, putting Jämtland on the map. With a passion for and creative use of resource efficient and sustainable development, she inspires the university research and education.
Bengt Klefsjö, Emeritus Professor at Luleå University of Technology, is a leading pioneer in the field of quality, nationally as well as internationally. He was appointed professor of Quality Technology in 1990, and has published a number of research articles and co-written some 20 textbooks on the subject. He has received multiple awards for his inspiring and engaging teaching, and was very valuable for the establishment of third-cycle courses and programmes in Quality Technology at Mid Sweden University.
Lars Lagerbäck, born in Ånge Municipality, is the only Swedish football manager who has led the national team to five consecutive championships. He has demonstrated qualified and professional leadership in one of the world's most practiced sports. His leadership philosophy involves communication and openness, and giving players a lot of responsibility, which has led to great success. This is why he is an inspiration, also for leaders of education and research in academia.
New honorary doctors at the Faculty of Human Sciences
Elizabeth Kendall is a highly qualified professor at Griffith University, Australia. Her research focuses on developing systems for rehabilitation of seriously injured people, and people with disabilities or chronic disease. For nearly 15 years she has contributed to Mid Sweden University in different ways; most importantly, she has strengthened research and development at the Department of Health Sciences. Her contribution has been crucial in strengthening research at the department, its funding and collaboration with society and other research groups.
Kjerstin Valkeapää, from Mittådalen in Härjedalen, is an intellectual leader who in different ways breathes life into the Sami culture. By working commercially and non-profit, and by inspiring others, she demonstrates its importance in today's society. With a strong passion, dedication and commitment, she has brought attention to the important role Sami culture plays in the history and development of the region. In this way, she has contributed to regional development and increased awareness of the region where Mid Sweden University is active.