Future bilateral collaborations
During last week in May Mittuniversitetet was visited by NSU (North South university) from Bangladesh.
The purpose of the meeting was to sign a so-called MoU, a declaration of intent that our two universities want to investigate what possibilities there are for future collaboration.
The declaration of intent, MoU (Memorandum of Understanding), will hopefully lead to writing a bilateral agreement with NSU in the near future, where student-teacher exchange and research collaboration are agreed, explains Anders Fällström.
— Internationalization is one of two emphasized areas in the university's strategy. Not least when it comes to research and postgraduate education, we see good opportunities with the deepened collaboration between our two universities. It can provide important injections to our research and education, which is important not only for the university and its quality, but that we connect international competence is also important for the regions in which we operate.
One of the initiators of the visit was Professor Koustuv Dalal, health economist and currently active at CER.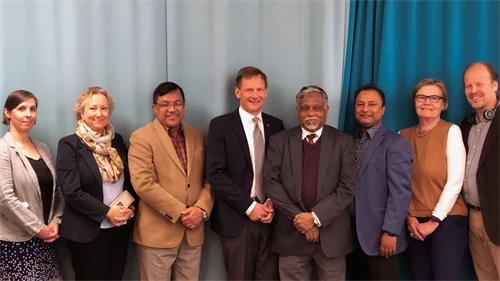 Participation in the declaration of intent. From left: Docent Dorothée Goetze, history, Dean Anna Olofsson, professor Sk. Tawfique M. Haque (NSU), Vice-chancellor Anders Fällström, Vice-chancellor Atiqul Islam (NSU), professor Koustuv Dalal, CER, international coordinator Cathrine Gladh and Dean Hans-Erik Nilsson.