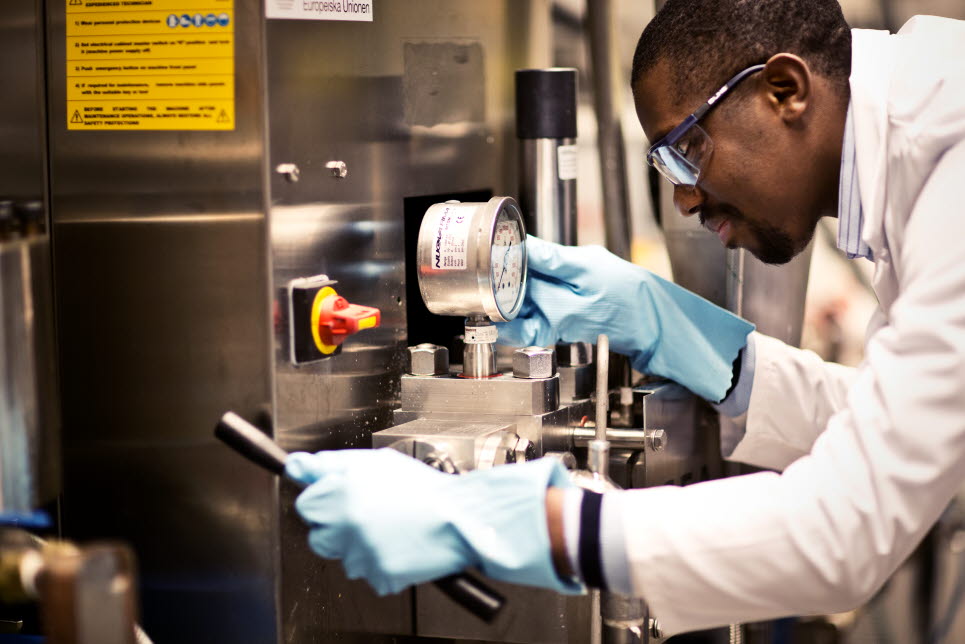 The Knowledge Foundation has decided to support our research in the research environment Transformative Technologies with 28 million SEK for the coming years.
- We conduct advanced research in collaboration with industry. Since a few years, we have built a cohesive organisation that focuses on transformative technologies in the forest industry and the ICT sector. The Knowledge Foundation supports this concentrated effort between academia and industry, says Hans-Erik Nilsson, dean and coordinator of the research environment Transformative Technologies at Mid Sweden University.
Transformative Technologies is a joint research environment for Mid Sweden University research centres STC (Sensible Things that Communicate) and FSCN (Fibre Science and Communication Network). With the researchers' excellence in chemical engineering, electronics engineering, engineering physics and computer technology the environment supports development of new products, innovations and services.
Transformative Technologies started in 2011 and is supported by the Knowledge Foundation. The goal of the environment is to create conditions for an industrial renewal that can lead to growth in both new and established companies and ultimately benefit the entire region. Within the environment we develop research projects that are formulated in close cooperation with industry.
- We note that there is a stable and coherent management of the research environment at Mid Sweden University. We can also see that there has been a development of the strategy for the Transformative Technologies, says Madelene Sandström, CEO of the Knowledge Foundation. It is an interesting aspect that the research environment through their vision explicitly addresses the desire to contribute to transformation of the industrial ecosystem.
Research that will get funding
Guest Professors
Mid Sweden University gets funding for two international guest professors. The aim is that they should contribute to strategic knowledge enhancement in the research environment.
Guest professor Emiliano Sisinni from the University of Brescia, Italy.

Guest professor Consolatina Liguori from the University of Salerno, Italy.
Research projects
Duva – Detector- and method development in the UV- and EUV wavelength region, for application in processing industries. Project manager: docent Göran Thungström Partner company: Sitek Elektro Opics AB, PulpEye AB
Enccp – Eco-friendly engineering of nanocrystalline for
green packaging. Project manager: professor Armando Cordóva Partner company: Holmen AB, Tetra Pak AB, MoRe Research Örnsköldsvik AB
Movements – Method for cost optimized Volumetric Object Monitoring
Systems. Project manager: researcher Najeem Lawal Partner company: Vattenfall AB, Combitech AB, In Situ AB
Timelines – Time- and mission-critical communication in low-power
wireless networks. Project manager: professor Mikael Gidlund Partner company: ABB Corporate Research AB, Analog Devices AB
Transform – New process to produce delignified pulp based on
mechanical pulp as raw material. Project manager: professor Magnus Norgren Partner company: Stora Enso Kvarnsveden AB och Valmet AB
X-coat – Characterisation of layered structures by a combination of X-ray fluorescence and compton. Project manager: professor Christer Fröjdh Partner company: Mantex AB, Holmen Iggesund Paperboard AB, Excillum AB, MoRe Research Örnsköldsvik AB
Grit – Distributed green services on the Internet of Things. Project manager: researcher Stefan Forsström Partner company: Prevas AB, Dohi Sweden AB
Education programs
Master of Science OCXIS – Operation and change of complex industrial Systems. Project manager: researcher Olof Björkqvist Partner company: Akzo Nobel Pulp and Performance Chemicals AB, Dewire AB, Länsförsäkringar Västernorrland, Nordea AB, SCA Forest Products AB och ÅF Industry AB
Master SANDAS – Master of Science in Sensor and Automation Systems. Project manager: professor Claes Mattsson Partner company: ÅF AB, Svensk Elektronik, Fiber Optic Valley AB, Emhart Glass AB, Combitech AB, Eurocon AB, SenseAir AB