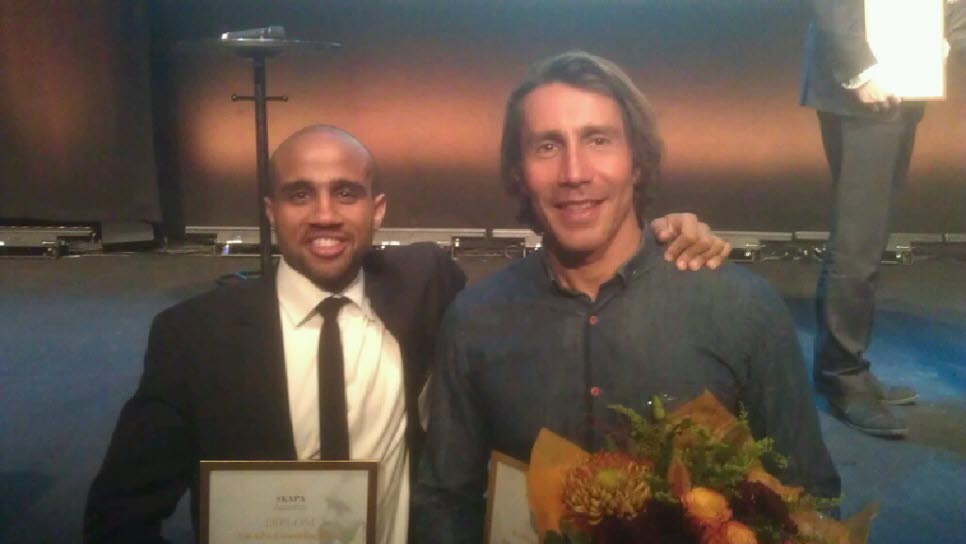 Our researchers Samson Afewerki and Armando Córdova won an honorable mention and 10 000 sek in the national final of the SKAPA Foundation's innovation competition. Read more in Swedish below.
I september vann Armando och Samson länsfinalen i SKAPA-stiftelsens tävling med sin unika och miljövänliga metod för att sönderdela lignin och omvandla det till produkter med ett högre marknadsvärde, exempelvis flytande biobränsle, polymerer och läkemedel. Deras innovativa teknologi använder giftfria organiska katalysatorer och är direkt användbar i industriell storskalig produktion med en stor marknadspotential och till nytta för pappersindustri, skogsägare och drivmedelsföretag. Juryn i Västernorrland menade att forskarduon hade skapat en unik tillverkningsmetod med en hållbar, miljövänlig och kostnadseffektiv teknik som går att applicera i flera olika branscher. Metoden är patenterad och på väg ut på marknaden.
I den nationella finalen i Stockholm den 10 november där landets 24 länsfinalister deltog, utsågs förutom vinnaren Tongyun Shen från Skåne, också fem bidrag som fick ett hedersomnämnande och 10 000 kronor. Samsons och Armandos bidrag var ett av dem.
SKAPA-stipendiet är instiftat till minne av uppfinnaren Alfred Nobel för att uppmärksamma och stödja innovatörer så att de kan utveckla sina uppfinningar till produkter och tjänster.