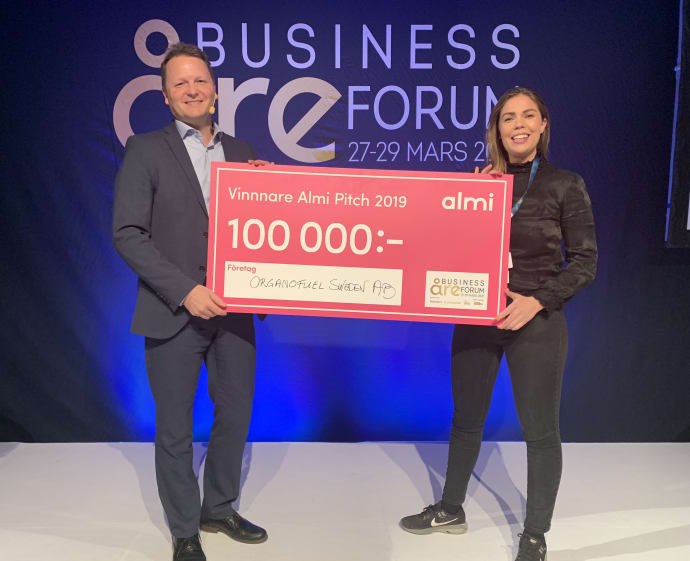 The research spin-off company Organofuel Sweden, won Almi Pitch on Åre Business Forum. Congratulations Anna Svantes, Armando Cordova, Italo Sanhueza and Organofuel!
Here is a press release from Almi in Swedish
Ekovänlig teknologiplattform med skogen som råvara tog hem pitchpriset på 100 000 kronor och vann både investeranas och publikens hjärta och hjärna. Organofuel har utvecklat en materialteknologi som ger energieffektivare, billigare och klimatsmartare tillverkning av t ex biodrivmedel och finkemikalier för livsmedelsindustrin, kosmetika, läkemedelsindustrin samt biomaterial för att ersätta plaster.
- Jag är så glad för vinsten, idag vann framtiden! Vår målsättning är att rädda världen och samtidigt bygga en affär. Vi kan påvisa hur man kan skapa produkter från forskning och skapa nya gröna näringar, säger Anna Svantes, sälj- och marknadschef på Organofuel Sweden
Cirka 60 företag från hela landet hade nominerat sig till årets omgång av Almi Pitch Event. Tio stycken kvalade in till tävlingen och fick pitcha sin affärsidé inför en erfaren investerarpanel på Copperhill i Åre. Uppgifter för panelen var dels att ge värdefull återkoppling på bolagens pitchar och dels att bedöma affärsidéns potential.
I det första tävlingsmomentet fick företagen genomföra en femminuters pitch inför investerarpanelen. Därefter fick de tävlande genomföra en koncentrerad pitch på två minuter inför publik på Copperhill i Åre. Den slutliga vinnaren röstades fram av publiken.
- Det var mycket lärorikt med investerarnas råd. Jag fick bra feedback på hur vi kan jobba mer kostnadseffektivt och skruva på vår affärsmodell. Jag tog med mig vikten av att pedagogiskt kunna kommunicera vår affär på ett enkelt, relevant och fokuserat sätt, fortsätter Anna Svantes.
Läs mer om Organofuel Sweden här: https://www.organofuelsweden.com/
See the movie where the research group of organic chemistry presents themselves