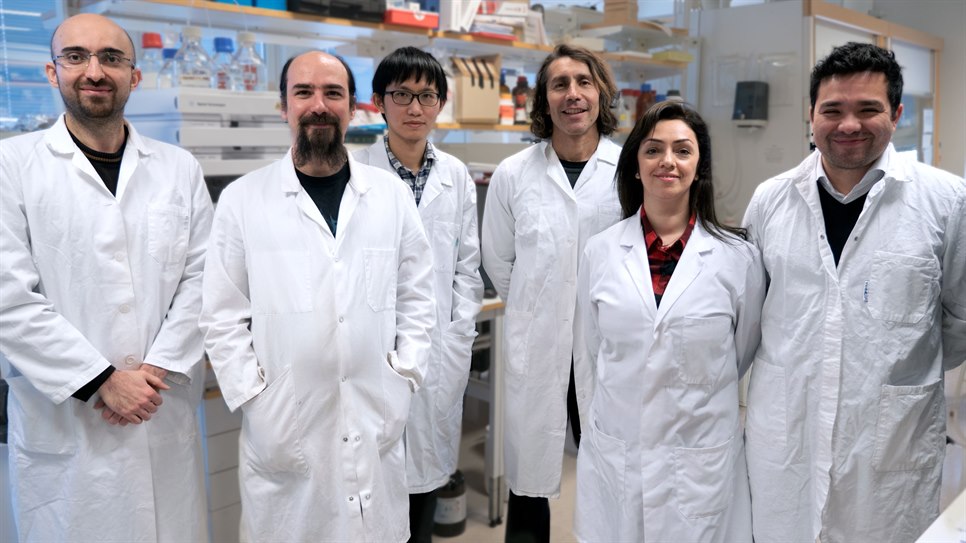 The research interest of the organic chemistry group focuses around green catalysis and in particular the field of organic catalysis.
Several asymmetric reactions using natural amino acids and amino acid derivatives as catalysts have been developed. For example, amino acid-catalyzed reactions for the asymmetric synthesis of the side-chains of docetaxel and paclitaxel, which are important compounds for the treatment of cancer.
The organic chemistry group is also involved in research with respect to porous materials and heterogeneous catalysis. Here the green modification of cellulose and polysaccharide derivatives for application in the packaging, textile and pulp and paper industry is a large research area. In this context, the technology and research has led to the start-up of a chemical company OrganoClick (www.organoclick.com).
The catalytic utilization of lignin and the development of useful products from it is also research, which the group is involved in. Here the total synthesis of Capsaicin and its analogues have been accomplished by using combination of heterogeneous metal and organo and enzyme cascade-catalysis. The research of the organic chemistry research group has led to more than 70 publications since 2007. Several of these have been published in the top-tier chemistry journals. The research has often been performed in close collaboration with scientists within the university, from other universities in Sweden and from abroad. Here participation in Berzelii centra, which is sponsored by the national research council and VINNOVA, is on-going. We have also a close collaboration with the industry. The research performed by the group can shortly be presented by addressing three research areas:
A Catalysis (Asymmetric Catalysis, Biomimetic catalysis, Organocatalysis, Biocatalysis, Combination of organo- and transition metal catalysis).

B Green Chemistry (Domino, tandem and cascade reactions, Development of environmentally friendly catalytic reactions, Catalytic modification of cellulose, lignin and polysaccharides, catalytic reactions in water as the reaction media).

C Synthesis of natural products and pharmaceutically active molecules (Asymmetric Synthesis, Total Synthesis, Diversity Oriented Synthesis, Chemical Biology).
Here a large effort has been put in and led in total to the publication of more than 150 scientific papers since 2003. Several of these have been published in top tier chemistry journals (e.g. J. Am. Chem. Soc., Nature, Angewandte Chemie, Chem. Commun, Chem. Eur. J., Adv.. Synth. Cat., Org. Lett. Etc..). This research has also been highly cited with more than 8000 citations. The research has also led to development of several patented chemical processes, formulations and materials. In this context, start-up companies have been formed (OrganoClick AB and Organowood AB) and factories have been built through out Sweden.
Green Chemistry: A way of maximizing wood
The research focus here is together with industrial companies to develop new functionalized cellulose derived products such as paper and paperboard with high strength based on environmentally benign organic catalytic reactions of pulp and paper fibers. Thus, novel paper products with improved properties like dry- and wet-strength will be produced. The green chemistry modification also aims to achieve a more efficient use of the renewable resources and reduce costs, energy consumption and environmental strain. An important part of the project is also to use forest resources for developing important cancer drugs such as Paclitaxel (taxol).
Research projects
Green chemistry for new paper products, Vetenskapsrådet