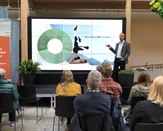 Welcome Mittuniversitetets open seminars Business Innovation Seminars that are arranged the first Thursday of each month.
Det är dina frågor och utmaningar som är i fokus på Business Innovation Day.
Digitization challenges traditional business models and drives development towards a more sustainable society. How do the latest trends look and how do we cooperate to cope with the transformation? This and much more will be presented and discussed on October 15, 2019 at Science & Innovation Day in Sundsvall.