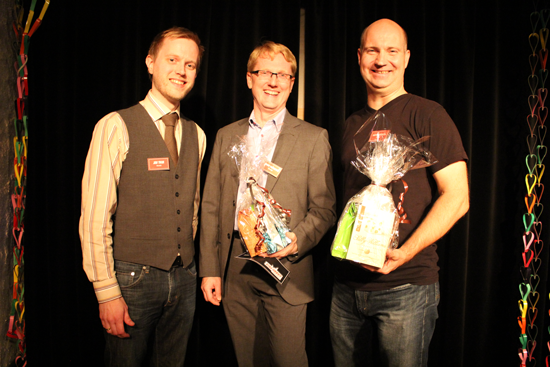 On Friday, September 26, it was time for researchers without stage fright to perform in Kulturmagasinet. Researcher Grand Prix is a competition where researchers present their research in just four minutes to an audience and a jury.
The jury consist three persons each of which each represented one area: academic, media and culture. With imagination and dedication the researchers presented the results of their research. It inspired the audience and the jury who together crowned the winner.
It was the STC researcher Benny Thörnberg who won the battle of the Researcher Grand Prix in Sundsvall. His presentation on electronic eyes that can reveal the formation of ice on roadways was voted as the best by the audience and the jury.
- This has been great fun, this is not something you do every day. But it is important that researchers can present and communicate their research also for a general public, said Thörnberg at the awards ceremony.
Researcher Grand Prix was organized on Friday, September 26, by Mid Sweden University. Six researchers competed in making the most interesting and educational presentation of their research and a jury and the audience voted for the winner.
The winner in Sundsvall, Benny Thörnberg, took a place in the national final in Stockholm on 25 November.
Before Researcher Grand Prix, researcher from Mid Sweden University invited to Research Friday at Campus in Sundsvall. A total of 1000 students from elementary school and high school were entered for this event which included that STC presented the research in a exhibition and a popular lecture from Stefan Forsström about the next generation intelligent services.
The contestant's researchers were:
Benny Thörnberg - Electronic design, STC Research Center
Kajsa Falasca - Media and Communication
Lasse Reinikainen - Social Sciences
Yvonne von Friedrichs – Economic and law
Mårten Sjöström - Information and communication, STC Research Center
January Thim - Electronic design, STC Research Center
The jury consisted of the following persons:
Anders Söderholm – Vice Chancellor at Mid Sweden University
Gisela Nilsson – Actor at Teater Västernorrland
Hans Lindblom -Television journalist and news presenter from Mittnytt
Watch the winning presentation here
http://www.st.nu/medelpad/sundsvall/sprintforskning-pa-fyra-minuter-blankt
http://www.dagbladet.se/medelpad/sundsvall/forskarna-tavlar-om-publikens-roster