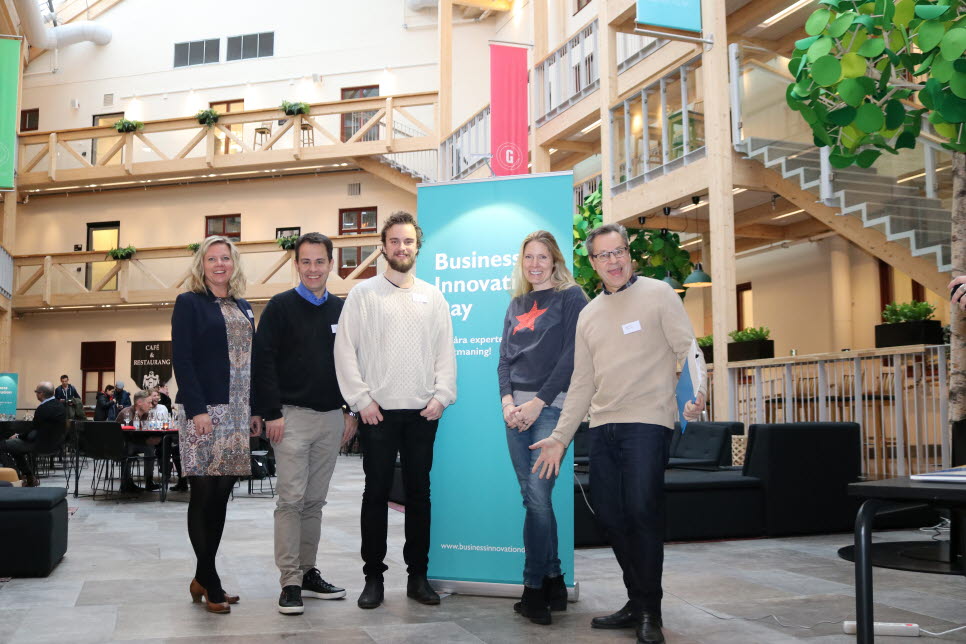 On November 22, around twenty business representatives were gather together with researchers from Mid Sweden University in Sundsvall to find solutions to corporate development issues. This is called Business Innovation Day an event organized for the fourth year by Mid Sweden University, Åkroken Science Park, Fiber Optic Valley and Processum.
Article in Swedish:
Den 22 november samlas ett tjugotal företagsledare och representanter från näringslivet tillsammans med Mittuniversitetets forskare i Sundsvall för att hitta lösningar på företagens utvecklingsfrågor. Detta sker under Business Innovation Day som arrangeras för fjärde året i följd.
Ett av företagen som medverkar i år, är Caicla AB som finns i Sundsvall, Umeå och Timrå. Företaget arbetar med en enklare och smartare lösning för att återvinna mer material och vänder sig till både privatpersoner och företag.
­− Business Innovation Day är klockrent för vår del. Idag erbjuder vi ett system för att lagra och frakta källsorterat material från hemmet till återvinningen. Vi har varit igång i ett år nu och samlat in mer än 16 ton källsortering! Vår utmaning ligger i att vidareutveckla den teknik vi använder och vi ser fram emot att få diskutera fram en lösning med Mittuniversitetets forskare, säger Pontus Persson, VD Caicla AB.
Genom åren har närmare 40 organisationer fått hjälp av forskare vid Mittuniversitetet med sina utmaningar. Av dessa har mer än hälften hittills gått vidare till forskningssamarbeten, medan andra fått nya lösningar att arbeta vidare med.
− Vi möter olika utmaningar varje år och det är alltid lika stimulerande att medverka i diskussionerna med företagen kring deras produkter och tjänster. Vår uppfattning är att dagen, i högsta grad, bidrar till att utveckla nya idéer och samarbeten, säger Mattias O´Nils, professor och forskningsledare vid STC.
Det är Mittuniversitets forskningscenter STC och FSCN som arrangerar Business Innovation Day tillsammans med innovationsmiljöerna Fiber Optic Valley, Åkroken Science Park och Processum. Företagen anmäler utmaningar som de vill ha hjälp med att lösa och få ett forskningsperspektiv på. Utmaningarna matchas ihop med universitetets forskare och sedan arbetar de gemensamt i workshops för att lösa utmaningarna. Läs mer här: www.businessinnovationday.se
Årets Business Innovation Day hålls onsdagen den 22 november i Grönborg, Storgatan 73 i Sundsvall. Media välkomnas att närvara.
FSCN – Fibre Science and Communication Network ger kunskap som både förbättrar skogsindustrin lönsamhet och skapar andra tillämpningar och affärsmöjligheter baserade på skogsråvaror.
STC – Sensible Things that Communicate utvecklar sensorbaserade system och tjänster inom elektronik och datateknikområdet med fokus på industriell IT, mobila tjänster och miljöövervakning.