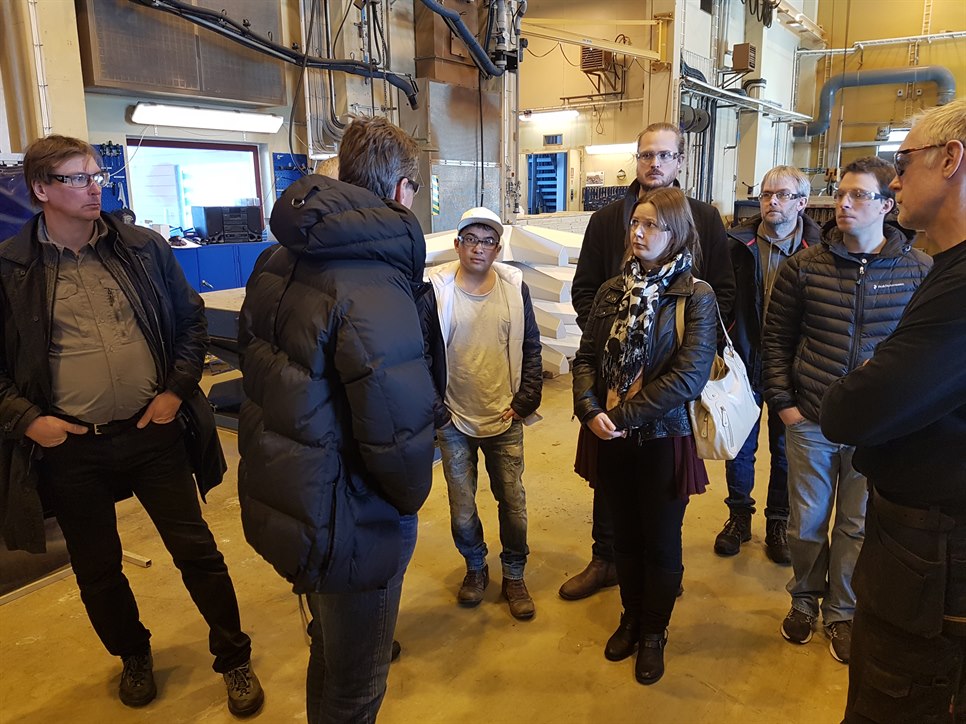 At the end of March four students from Mid Sweden University programme in electrical engineering and energy technology went to the company Scandymet in Söderhamn. The students received a presentation of the manufacturing of electric immersion heaters and will now begin their thesis work with developing overheating sensors that make the products safer.

Studenter utvecklar framtidens doppvärmare och värmeväxlare
I slutet av mars åkte fyra studenter från Mittuniversitetets utbildningar i elektroteknik och energiteknik till företaget Scandymet i Söderhamn. Studenterna fick en presentation av företagets tillverkare av elektriska doppvärmare och värmeväxlare och ska nu påbörja sina examenarbeten med att utveckla överhettningssensorer som gör produkterna säkrare.
Scandymet är ett 40-årigt familjeföretag med säte i Söderhamn. De tillverkar elektriska doppvärmare och värmeväxlare för korrosiva vätskor och har idag 13 anställda. I november deltog företaget med en utmaning på Business Innovation Day som arrangerads av Mittuniversitetet i samarbete med innovationsmiljöerna Fiber Optic Valley, Åkroken Science Park och Processum. Scandymet ville då ha hjälp av forskarna att hitta en lösning för att bland annat mäta nivå och förhindra förhindrar överhettning i några av deras produkter. De efterfrågade en prisvärd sensorlösning som tål de tuffa miljöer som företagets produkter verkar i.
Forskarna tog med sig utmaningen hem och nu kommer alltså fyra studenter som läser elektroteknik och energiteknik att titta närmare på utmaningen. De ska i sina examensjobb testa olika lösningar om man kan ta fram ett system som indikerar temperatur och larmar om värmarna når för hög temperatur eller riskerar att bli torrlagda och överhettade. I ett första steg fick studenterna tillsammans med sina handledare besöka Scandymet och se produktionen på plats i Söderhamn. Arbetet kommer sedan att fortsätta och resultatet ska redovisas till sommaren.