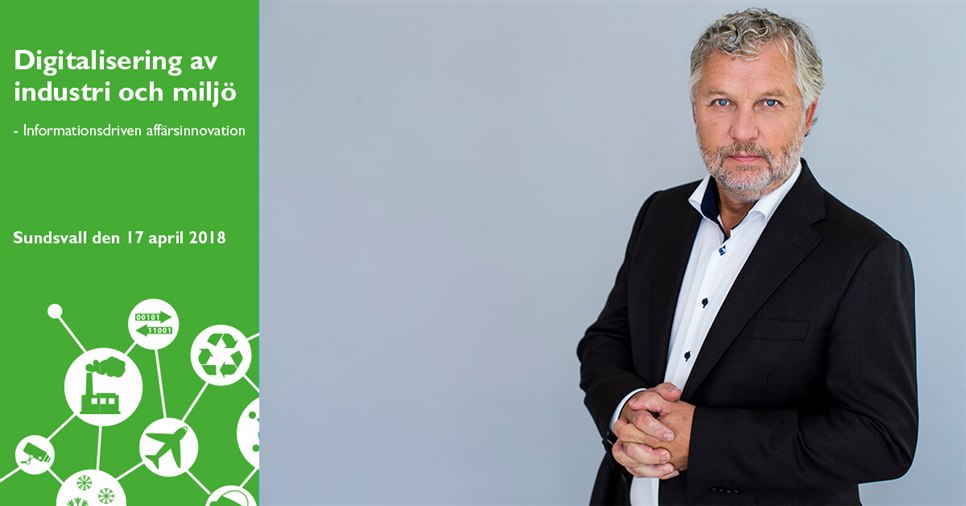 Välkommen till heldagskonferensen Digitalisering av industri och miljö - innovationsdriven affärsinnovation den 17 april på Grönborg med huvudtalare Peter Eriksson, digitaliseringsminister!
Om konferensen
Dag: 17 april
Tid: 9.30 -17.00
Plats: Grönborg, Sundsvall, Storgatan 73
Pris: 495 kr inkl. lunch och fika
Till anmälan
Vi som arrangerar konferensen är Mittuniversitetets forskningscenter STC - Sensible Things That Communicate, och Bron Innovation.
Som dagens huvudtalare har vi bjudit in digitaliseringsminister Peter Eriksson som ska berätta om hur regeringens digitaliseringspolitik ska göra Sverige bäst i världen på att nyttja digitaliseringens möjligheter.
Du får också ta del av aktuella exempel från industrin där bland annat Jonas Gustavsson, vd på ÅF Consult presenterar hur de utvecklar hållbara lösningar genom att förena människor och teknik runt om i världen.
Anne Håkansson, docent inom Software and Computer Systems på KTH kommer att delge möjligheter och utmaningar med AI, artificiell intelligens.
Magnus Hedin, vice vd och affärsutvecklingschef på SDC, kommer att berätta om vilka utmaningar och möjligheter SDC ser i sin nya satsning på att digitalisera skogsdata från Sveriges alla skogsbolag. Som talare under dagen hittar du även Peter Björkholm, vd RISE Acreo och Peder Björk, kommunalråd och kommunstyrelsens ordförande, Sundsvall.
Under konferensen kommer du att få ta del av Mittuniversitetets nya forskningssatsningar som syftar till att utveckla vår region inom digitalisering och informationsskapande genom mätteknik: Miljön i kontrolloopen (MiLo) och Nästa generations Industriella IoT (NIIT) samt regionens och Brons Vinnväxtinitiativ.
Läs mer om satsningarna och konferensen på denna sida:
miun.se/digitaliseringskonferens
Välkomna!
Mattias O'Nils, centrumledare STC, Mittuniversitetet
Lars Persson Skandevall, vd Bron Innovation