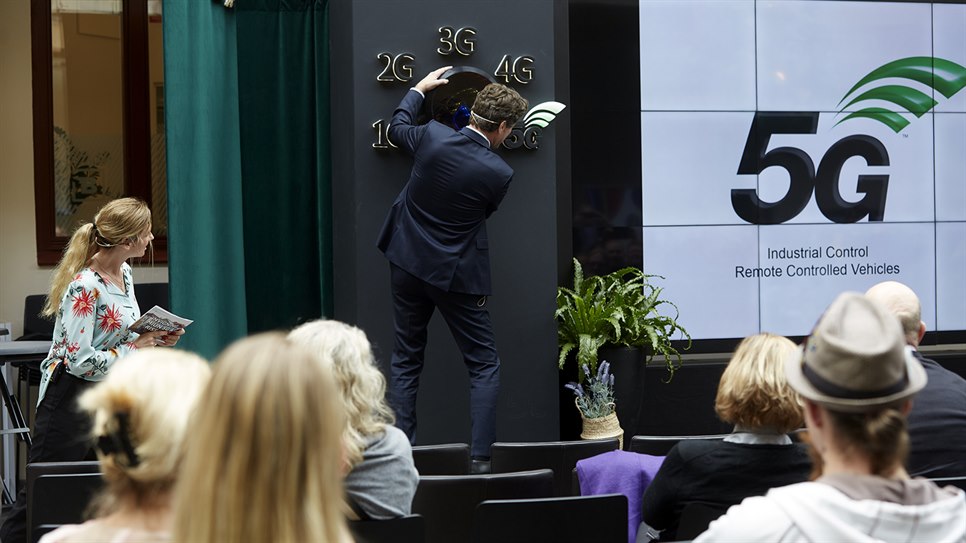 On Tuesday, May 28, Telia and Mid Sweden University inaugurate the first 5G network in Northern of Sweden. At the same time, RISE is launching a new office in Sundsvall. The parties will now collaborate to explore industrial applications of 5G, AI and the Internet of Things - IoT. At the inauguration ceremony, a timber car was controlled remotely using 5G technology.
From the press release (in Swedish).
Invigning av Norrlands första 5G-nät i Sundsvall
Tisdagen den 28 maj inviger Telia och Mittuniversitetet Norrlands första 5G-nät. Samtidigt lanserar RISE ett nytt kontor i Sundsvall. Parterna ska nu samverka för att utforska industriella tillämpningar av 5G, AI och Internet of Things - IoT. Vid invigningsceremonin fjärrstyrs en timmerbil med hjälp av 5G-teknologi.
– Det är viktiga milstolpar för Mittuniversitetet och regionen eftersom vi stärker vår position inom forskning av AI och Internet of Things för ett smartare samhälle och industri. Det nya 5G-nätet och RISE-etableringen stärker våra forskningsprogram inom industriell IoT och inom system för miljömätningar, säger Mattias O'Nils, centrumledare på forskningscentret STC - Sensible Things that Communicate.
Västernorrland är en stark industriregion, vilket gör regionen lämplig för att utvärdera behov kring framtidens mobila nätverk samtidigt som 5G-etableringen blir en resurs för industrins fortsatta utveckling och digitalisering. 5G-nätet ger förutsättningar för att undersöka behov och möjligheter kring trådlös kommunikation i industrin och kan utveckla forskningen kring fjärrstyrda och autonoma fordon i industrin och i skogsbruket.
– Vi får en unik möjlighet att få utforska industriella tillämpningar av 5G, AI, och IoT tillsammans med Mittuniversitetet. Genom att skapa nya applikationer i en dynamisk testmiljö kan företag, entreprenörer, forskare och studenter i samarbete bidra till att Sverige ligger i framkant när 5G rullas ut kommersiellt, säger Mats Lundbäck, Chief Technology Officer, Telia Sverige.
RISE ICT division arbetar med digitaliseringsfrågor i nära samarbete med näringslivet och Mittuniversitetets forskare.
– Samarbetet med regionens parter i Sundsvall är väldigt intressant och vi tror att detta kommer att leda till många spännande och intressanta projekt, där 5G- testbädden är ett bra exempel. Vår roll är att föra in ett tillämpningsperspektiv och därigenom bidra till att forskningen förs ut till nytta i industri och samhälle, säger Björn Samel, enhetschef RISE.
Vid själva invigningsceremonin kommer industriföretaget HIAB att demonstrera hur man kan köra en timmerkran på lastbil över internet med hjälp av 5G-teknologi. Vid demonstrationen används HIABs HiVision-system där kranen körs med hjälp av kameror och 3D-glasögon från lastbilshytten via 5G.