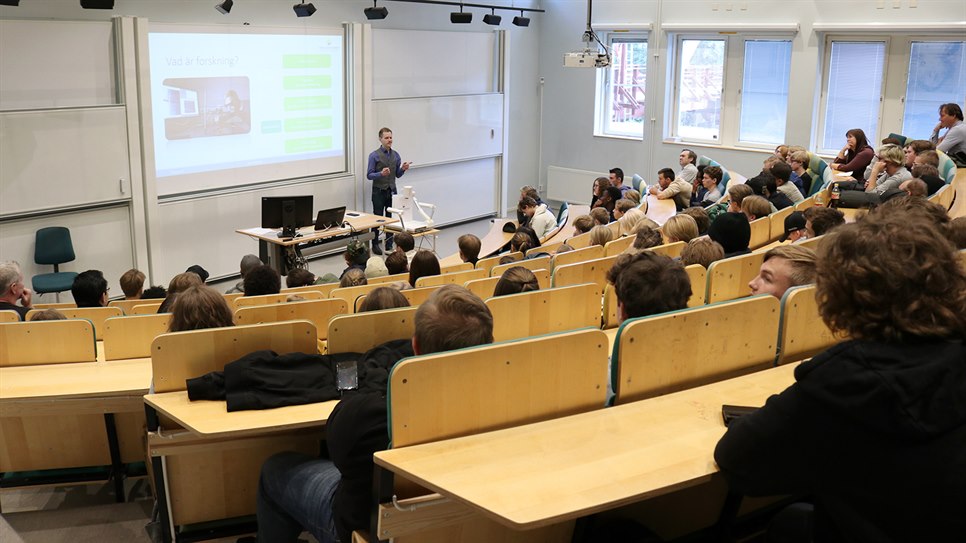 Today, several hundred high school students visited Mid Sweden University to attend a science day. STC researchers Krister Hammarling, Jan Thim, Benny Thörnberg and Xiaotian Li presented what a researcher do and held inspiring lectures.
Miljön i kontrolloopen –MiLo
Benny Thörnberg, docent i elektronik
Städer, infrastruktur, industriella och säkerhetskritiska miljöer är exempel på områden där vi ser ett ökat behov av att mäta och övervaka miljörelaterade parametrar. Värdefull information kan sedan extraheras för återkoppling in i mänskliga eller maskinella processer för reglering eller beslut. Mer konkreta exempel på detta är flygplatser, förnyelsebar energiproduktion, smarta städer och hantering av industriella restflöden.
Non-Conventional Materials for Electronics: More than What You Think
Tian (Li Xiaotian), doktorand i elektronikkonstruktion
In my researches, I use low-cost and non-conventional materials to implement hybrid electronics circuit systems, which includes identifying new materials, assembling SMD components, designing electronic systems. Compared to conventional circuit boards, the circuit boards made from novel and flexible materials possess the following advantages: low-costs, environmental friendly, flexible, deformable, wearable, and large-area etc.
Sensorer, till vad och varför
Krister Hammarling, forskare i elektronikkonstruktion
En sensor är någonting som kan känna och/eller mäta en förändring. Det kan vara förändringar i t.ex. temperatur, ljus, hastighet eller sockerhalten i blodet för en diabetiker. Dom finns i alla möjliga former och storlekar. Från kanske bland den enklaste sensorn som ni använder dagligen utan att tänka på det, "tryckknappen till lyset", till dom mest komplexa sensorerna som kan mäta saker på atomnivå. Men hur ser framtiden ut, behöver vi fler eller färre sensorer? Om svaret är fler till vad?