Guest lecture by Dr. Filip Barac
On November 16, STC got a visit from alumnus Dr. Filip Barac for a guest lecture. Dr. Barac graduated from his PhD-studies at Mid Sweden University in March 2016. Today he works at Ericsson, where he holds a double role: he is as a researcher and a trainee in the Ericsson Innovate Early Career trainee program.
Dr. Filip Barac got his PhD-degree in March 2016 after five years of studies at Mid Sweden University. Today Dr. Barac works at Ericsson as a researcher with focus on 5G network standardization and concept studies. He also joined the 18-month fast track trainee program called "Innovate Early Career Program" at Ericsson.
- As a fast-track career program participant I have a double role in the company: my primary job is to be a researcher in the area of 5G radio access networks, but from time to time I rejoin with other trainees for competence building trainings, where the focus is on sharpening our business and leadership skills. In a nutshell, it's an 18-month career gym, Dr. Barac says.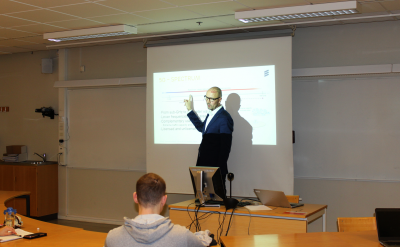 During his PhD, Dr. Barac was a part of the research group Sensor-based Services (today named Communication System and Networks). After his studies he had a plan about joining the trainee program at Ericsson, and he describes his education at Mid Sweden University as an entrance ticket to his future career.
- Now that I have entered the industry, I can confirm that the research conducted at STC and Mid Sweden University is very up-to-date and corresponds well with the current state-of-the-art in the ICT market. After all, the things that I learned here were my entrance ticket to Ericsson, Dr. Barac continues.
The purpose of the visit was to give a lecture about the development of 5G networks for students at IKS (Department of Information- and Communication Systems), but also to reconvene with old colleagues.