Low delay in video streaming on the IoT-platform "Sensible Things"
It is August and the autumn semester for 2015 are about to start. The exchange student Federico Vincenzo Fiordigigli from Italy has just ended his 5 month long research work and is about to present his results to the researchers at STC and his professor from the Italian university L'Aquila.
Federico received his bachelor's degree at L'Aquila in March. The next step was to continue his studies on a master level but first he wanted to expand his experience in the IoT area and improve his English as an exchange student. His choice fell on Sweden and Mid Sweden University.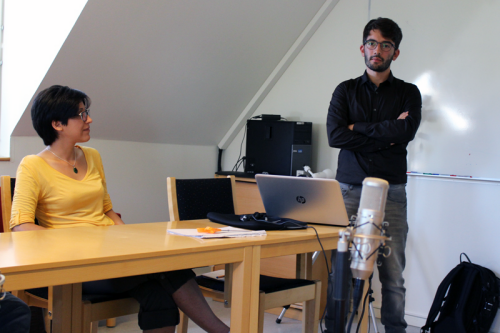 What is it that you have been doing research on?
I have examined the capability of the IoT platform SensibleThings in terms of video transmission. The platform is quite complex and the researchers did not have any direct figures on if it's suited to transfer video data in real-time. I have examined this and concluded that the platform is not only capable of handling the video transmission, but it has only ~181 ms delay, which makes it suitable for surveillance scenarios that require a low delay rate.
Why did you choose Sweden?
First of all I wanted to improve my English and in Sweden, the great majority speak English. I have even come across small children here who switched to English when they hear that I don't speak Swedish. Sweden is also very open minded and there are people living here from all over the world.
How was it to come to Sweden?
The first few weeks were a bit tough. I came here in March and it was very cold. Unlike in Italy, the office is almost completely empty after 6 PM, so it was a little lonely in the evenings for a start. But I have spent a lot of time with other exchange students in Erasums and it has been great fun. Everbody comes from different countries, but together we share our experience as an exchange student in Sweden.
How has it been working with research?
It is my first work experience in research so I have nothing to compare to but I got a lot help getting started from everyone in the department. I really want to thank everyone who has been so kind and helpful. It has been a very good and educational experience. I have got a first glimpse of the world of research.
What will you do now?
I will start my Master studies at my home university, L'Aquila, in September. So the next two years there will be studies. After that I do not know what I want to do. It is too far in the future. I got to know several PhD-students here so maybe it will be a PhD. I'm also curious to work with development and innovation in business.
Will you come back to Sweden?
It's possible. Our university cooperates with several university around the world, including KTH. And maybe it will be a new collaboration with Mid Sweden University as well?