Sebastian returned to Mid Sweden University
In June 2014 Sebastian Schwarz defended his PhD thesis successfully and received his PhD-title. The day after he got married and then packed his bag to move to London were his new work at BBC waited for him. Now he is back to talk about his research work at BBC.
Sebastian started his work at BBC at the EU research program called "Perceptual Opimised Video Compression" (PROVISION). It is a two year long position where he works with defining requirements for work packages in the research project. The goal for the project is to improve video compression into lower requirement for storage space and network speed, for both industrial and public use.
On Friday October 9, 2015, Sebastian Schwarz returned to Mid Sweden University to hold a research lecture to the PhD-students and post-docs at STC about his work.
- It´s nice being back and visiting old friends again. I really missed my coworkers here at Mid Sweden University and it is good keeping contact and share research experience with each other, Sebastian says.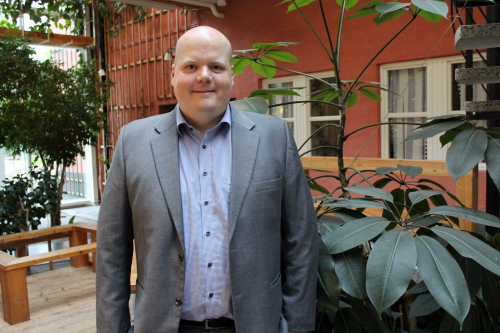 Working at BBC is a new experience and quite different from being a PhD-student.
Sebastian defended his doctoral thesis "Gaining depth - Time-of-flight sensor fusion for three-dimensional video content creation" at Mid Sweden University in June 2014. He investigated how Time-of-Flight sensor fusion can help to simplify 3D video content generation, consequently supporting a larger variety of available content. His thesis provided important inputs towards broad and innovative 3D video content, hopefully contributing to the future success of next-generation 3DTV.
Read more about the research project PROVISION: http://www.provision-itn.eu/home.htm