Start‑up meeting for FIBER cooperation
The research project FIBER at Mid Sweden University started first of January and now in March, all business partners and researchers met for the first time in Sundsvall. During the day the companies got a short campus tour and a research presentation in the lab environments.
After the tour, project manager Kent Bertilsson held a presentation of the project approach and discussed goals with the collaboration within the project.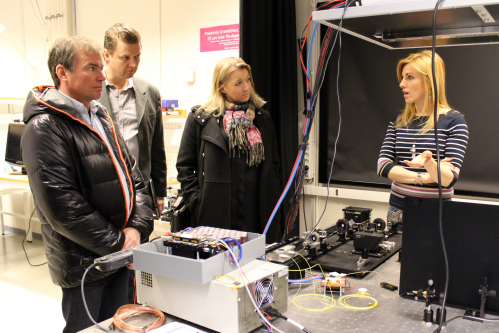 The purpose with the research project FIBRE is to develop efficient methods for fiber blowing. The goal is cheaper and easier ways to blow fiber in the future, which will make it possible to offer fiber in places where it today is not economically feasible
In Sweden 67 % of all households have fiber connections and according to the government's broadband strategy the goal is that 95 % will have access to broadband with 100 Mbit/s by year 2020 and in 2025, the entire Sweden have access to fast broadband. This means that fiber must be expanded even more in the countryside and methods must be streamlined to make this possible.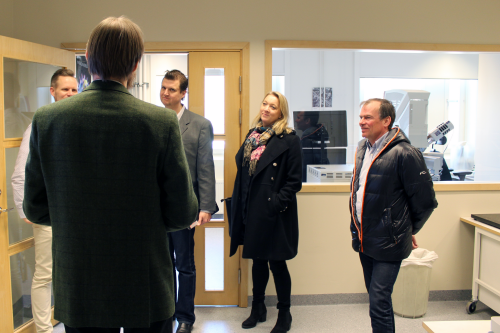 The regional business partners in the project are Eltel, ServaNet and Fiber Optic Valley.
Eltel is a leading European supplier of technical services for critical infrastructure networks - Infranets - in the segments of Power, Communication and Transport & Security, with operations in the Nordic and Baltic countries, Poland, Germany, the UK and Africa. Eltel offers a wide and integrated range of services ranging from maintenance and upgrade services for large project deliveries. The number of employees currently stands at around 9 300. In Sweden Eltel have approximately 1900 employees located across the country.
ServaNet deliver fiber broadband which enables services of Internet, TV and telephony. ServaNet today delivers fiber network in the municipalities: Sundsvall, Härnösand, Timrå, Ånge, Strömsund and Ragunda and Berg and is owned by the municipalities, or in some cases by utilities in municipalities.
The technology in ServaNet city network is the latest and guarantees high reliability with little risk of interference, a network for the future where there are no limits on data traffic. With over 20 000 connected households and businesses ServaNet is Sweden's largest metro networks, and constantly under geographical development. Approximately 6000 homes are connected to Servanet, and the number increases by about 1000 per year.
Fiber Optic Valley is an innovation clusters that operate in the areas of sensor technology and fiber technology and supports research by bringing together business needs with researchers' excellence. Fiber Optic Valley is a non-profit organization and consisting of over 50 members. Fiber Optic Valley brings together the right skills to create innovations, assessing market potential, build new partnerships and provide support to solve financing.