App against master suppression techniques
It started out as satire and ended up as a highly regarded app. The Forum for Gender Studies app about master suppression techniques was intended to counter abuse and harassment. The prototype is now being tested.
At the same time as #metoo was spreading around the world and drawing attention to sexual harassment, the news about Mid Sweden University's "Master suppression techniques" app was released by FGV, the Forum for Gender Studies, and the group of researchers that calls itself the Forum for digitisation. The app received considerable attention and the news spread across newspapers, radio and TV.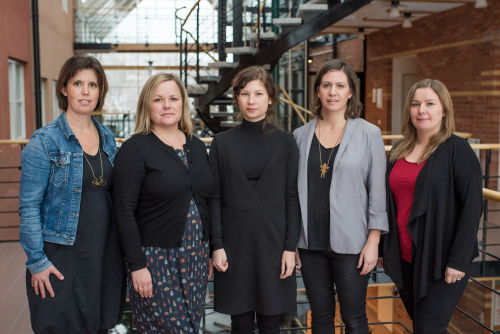 Lisa Sällvin, Helene Zetterström-Dahlkqvist, Emelie Larsson, Karin Larsson-Hult and Michaela Castellanos.
"Last spring, when we started work on the app, we didn't anticipate a response like this, but with #metoo, it was to be expected", confirms Karin Larsson-Hult, who is a postgraduate student in sociology.
She has the support of her colleagues, Michaela Castellanos, a postgraduate student in English, Heléne Zetterström Dahlqvist, a lecturer in public health, and Emelie Larsson, another postgraduate student in sociology.
"It really is of its time. And it shows that there is a need", says Emelie Larsson.
The idea for the app came about last spring, when this very group was attending the FGV's research days, wondering how they could work on feminist strategies. Someone hit on the idea of an app, and then it was just a matter of how to build one. They started by writing a text which followed the classic concept of seven kinds of biscuit. Except that they wrote a recipe for counteracting the seven most commonly discussed kinds of master suppression techniques.
"It started out as a satirical text that we linked to seven kinds of digital biscuits. We described what an app that helps to highlight, raise awareness of and counteract master suppression techniques could look like", says Karin Larsson-Hult.
Lisa Sällvin, who is a computer science teacher, was brought in later that spring and work on an app took shape. The app for countering master suppression techniques is now installed on the group's mobile phones.
How the app works
There are three different focus areas in the app: If you have been the victim of master suppression techniques, if you have seen someone else being a victim, or if you have used these techniques against someone else and you want to change your behaviour.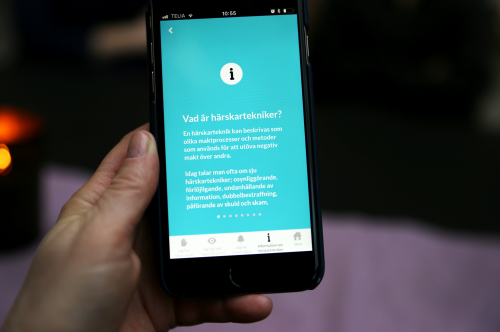 The app against master suppression techniques
"Often you don't realise until afterwards that you have been the victim of a master suppression technique, but the app can also be used as a preventive aid. There are tips for counterstrategies and for affirmation techniques", says Karin Larsson-Hult.
The seven master suppression techniques discussed are making invisible, ridicule, withhold information, double bind, heap blame/put to shame, objectifying and force/threat of force. The app contains information about all the techniques and tips and tricks for dealing with them. There are a number of specific examples of situations in which a master suppression technique has been used, for example, the sub-headings "somebody joked about me in a way that made me feel uncomfortable" or "two or more people were talking about me as if I were not there".
The target group is anyone, men and women, young and old.
"Nor is it just a matter of sexual harassment, it's more than that", says Heléne Zetterström Dahlqvist.
"It will be a way of talking about the exercise of power", adds Emelie Larsson.
The goal is App Store and Google Play
The app has been created without outside funding, the one expense being the illustrations that were commissioned from an artist. So there has not been any appreciable cost so far, but financing will be needed if it is to advance beyond being a prototype. The group would like to see a facility for reporting abuse and for contributing statistics via the app, but who will receive the statistics or own the system is still unclear as yet.
"If it comes to that, we would like to continue working on this", says Heléne Zetterström Dahlqvist.
A university in Germany has contacted the group and shown some interest in the app, but for now it is being tested by just a few individuals. The hope is that it can soon be tested with the staff of Mid Sweden University.
The goal is for the anti-master suppressions technique app to be generally available for both iPhones and Android phones, for free, and in a number of languages.