Children lead the way in the area of digitalization
– I need your help, said the Professor who entered class 5a at Höglundaskolan in Sundsvall last spring. And the children helped her. By writing, drawing and explaining they helped her to grasp what digitalization actually is and how we ourselves can act in order to avoid being "digitalized".
The woman who entered the classroom was Katarina Lindblad Gidlund, professor of informatics and one of Sweden's leading researchers in the area of digitalization. Her reason for seeking out these 11 year olds was her wish to explore the true nature of "co-creation", within the framework of the digitalization agent project, in these times of digitalization.
The fact is that some of the biggest challenges involved in digitalization are firstly, that the idea of digitalization easily travels but too often untranslated into something we could grasp and, secondly, that people in general play no part in its development, instead letting themselves become passively digitalized, so to speak.
digitalization is often regarded as being about computers, phones and hardware, but what we don't consider are the soft values
– We often talk about digitalization as an invisible power, but that's not true. It's the human being behind the machine who decides. And we as citizens have to be in charge, says project leader Caroline Wallmark.
Together with her colleague Lisa Sällvin, Caroline is responsible for a research project aimed at developing work material for use in schools. The latest curriculum states that digitalization skills should constitute part of the education, which means that teachers will require some knowledge of the concept. Caroline Wallmark says that many teachers are not familiar with what it actually involves, which is particularly true when it comes to societal change.

– It's not as tangible as for example programming or source-criticism, it's more difficult to grasp. Caroline says that digitalization is often regarded as being about computers, phones and hardware, but what we don't consider are the soft values, where we have to address questions about why and who should be allowed to take decisions about what to digitalize.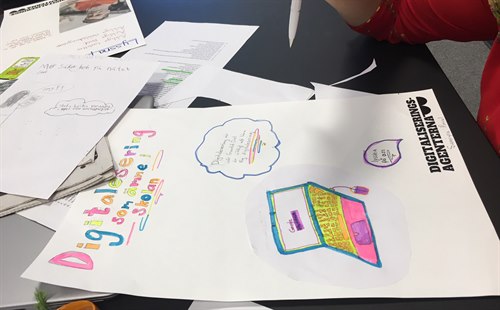 The term "Digitalization agents" evokes thoughts about something intriguing, something to be explored and perhaps discovered. The intention is to engage the children and at the same time make them understand that their views and participation is important. Caroline Wallmark tells us that the material to be developed in the project primarily targets intermediate-level pupils, but we believe that older pupils will also benefit from it.
‒ In order to chart the children's digitalization knowledge they were set the task of working with the concept during several sessions but without knowing its meaning. We started by asking them to draw digitalization. The children were also told to ask an adult at home to do such a drawing. The next step involved working with digitalization in relation to different themes, such as accommodation, travel and transport, work, family and friends, health care, who is the decision-maker and how learning takes place. We did not reveal what digitalization is until the fourth of the five sessions. Caroline Wallmark stated that it was a very interesting way of working, because it provided a good starting point for the task of developing working materials for schools.
It is vitally important that we as citizens become aware of the fact that we can be co-creators as well as making sure that our children understand this right and encourage them to be both critical and creative.
- The project has several aims, says Caroline Wallmark, one of which is for children to think in a creative way in order to encourage them to become committed and creative members of society, says Caroline Wallmark.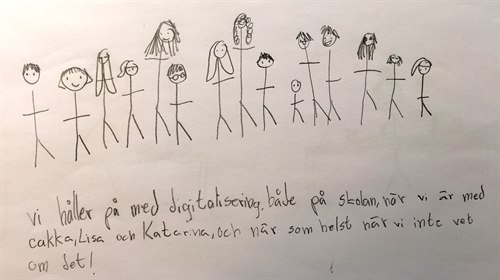 The co-operation with class 5a resulted in an exhibition, which at present can be viewed at Sundsvall town hall, showing the children's ideas about digitalization and what it can be used for. The children have also, in co-operation with researchers at Mid Sweden University, developed "Diggibot", a software robot that narrates what the children want digitalization to do for them using their own voices. The robot was handed over as a present to the new administrative agency "DIGG" on its inauguration. The next phase of the project is to co-operate with two more intermediate-level classes in order to further develop the material and produce films to enable schools in other parts of Sweden to take part.
We want the material to become available to everybody, says Caroline Wallmark.