A visit to MAX IV to discuss synchroton measurements
Researchers from Mid Sweden University and representatives from BillerudKorsnäs and Valmet visited MAX IV to discuss synchroton measurements on sulphur content in wood fibres.
Formax is the beamline at MAX IV that is developed within Treesearch and is expected to be operational in 2023.
The visit is part of the Vinnova project Renewable packaging materials - Impregnation depth measurements for pulping industry using synchrotron.
Since Treesearch's own beamline ForMAX will not be put into operation during this project time, synchrotron measurements had to be done at the Argonne National Laboratory in the United States instead. Preliminary results show how sulphonation in a fiber can be distributed.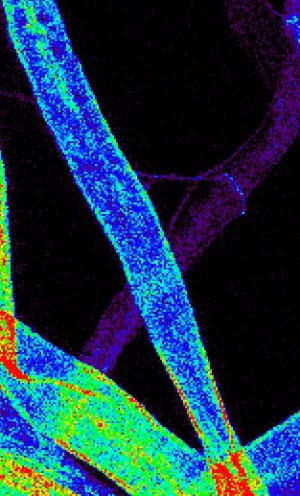 Sulphur distribution in samples from Mid Sweden University measured at the Advanced Photon Source. Photo: Barry Lai at Argonne National Laboratory