STORE - Electrical energy storage
Society is transitioning from fossil energy to green alternatives. As a result, the need to store energy from, for example, solar panels, wind power and electric cars is increasing. This project aims to develop large-scale production of new electrical energy storage systems at low production costs.
The aim of the project is to answer the question:
What combination of materials, processing, and power electronics will allow low-cost, large-scale production of electrodes to be used in electrical energy storage systems?
Three projects contribute to answering this core question: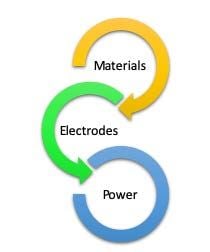 The Materials and Processing project will develop suitable basic materials for the storage components, and for making suitable composites and deposition methods for the storage components
The Electrode project will use the Energy materials and Processing results and develop suitable electrodes and prototype cells for Lithium-ion batteries and supercapacitors.
The Power project will develop suitable power electronics for balancing the cells allowing battery packages to be prototyped as well as developing suitable power electronics towards end applications for transport and green energy sectors.
Each of the projects are also stand-alone and the output from the projects contribute both to the synergy as well as to shorter-term results and products.
Facts
Project period
200401-240331
Partners
Elforrest

Vesta Si AB

Woxna Graphite AB
Research centers
Subjects
Research groups
Project leader
Project members