New research profile will enable new markets for fibre products
A new research profile, NeoPulp, will help the forest industry to broaden the use of fibre-based materials with resource-efficient processes. In total, the participating parties are investing SEK 117 million over eight years.
Resource-efficient manufacturing processes and biomaterials from the forest are a priority research area at Mid Sweden University, where the FSCN research centre collaborates with the forest industry and other related industries.
Mid Sweden University is now taking a new step to deepen its understanding of industry's processes in an ambitious research profile. Partner companies include ABB, Holmen, IPCO, More Research, Rottneros, Stora Enso and Valmet.
- NeoPulp will support the industry to broaden the usability of fibre-based materials, reduce the production footprint and attract R&D staff to the industry, which are required for the industry to contribute to the bioeconomy and replacement of fossil based raw materials, says Birgitta Engberg, associate professor at Mid Sweden University and one of the active researchers in NeoPulp.
An almost completely unexplored area
The research area for NeoPulp is pulp and papermaking processes where new digital methods for analysis, simulation and visualization of particle systems become important success factors for development.
- We enter an almost completely unexplored area by developing data-driven methods to find out how different fibers react to process conditions. Heterogeneity is a fundamental property of bio-based fibers that affects process performance and final product properties. By following heterogeneity along the chain from the forest to the end product, we introduce a completely new perspective for process research and product development, both in academia and in industry in general, says Birgitta Engberg.
- Holmen is convinced that forest-based products will have an important role in the development of a sustainable society. It is crucial to understand how fibre properties affect the performance of paper and board to improve our products and minimize the environmental impact. The research in NeoPulp will be an important part of this work and we look forward to cooperate with Mid Sweden university in this endeavour., says Christer Sandberg, R&D specialist Holmen Paper.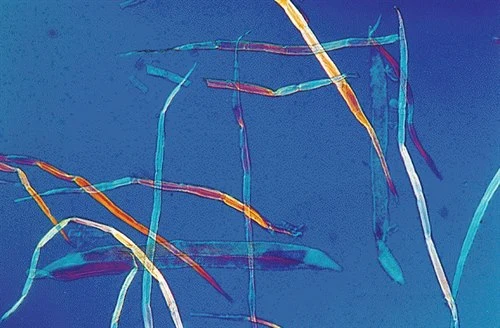 Microscopic image of approximately 1 mm long birch fibers (with permission from ABB).
The research group at FSCN Mid Sweden University has unique experience of fibres and the forest industry's processes and materials that will be strengthened with recruitment and development of collaborations and networks in Sweden and internationally.
SEK 117 million is invested over eight years
- NeoPulp will be the backbone for new process related research at Mid Sweden University. Trust built in co-production with industry staff at pilot and factory level has been crucial in the development of the ambitious research agenda we now have in NeoPulp, says Kaarlo Niskanen, professor and center manager at FSCN.
The research profile NeoPulp is funded by the Knowledge Foundation, the business community and Mid Sweden University, which together invest SEK 117 million over eight years.
- Data-driven research and development is a strategically important initiative for Mid Sweden University. We start recruitment and the first projects immediately after the holiday, says Hans-Erik Nilsson, dean of the Faculty of Science, Technology and Media.
For more information:
Birgitta Engberg, Associate Professor Mid Sweden University, telephone 072-581 88 97 e-mail birgitta.engberg@miun.se
Kaarlo Niskanen, Professor Mid Sweden University, telephone 076 807 8599 e-mail kaarlo.niskanen@miun.se