Research quartet can take biathlon to new heights
Mid Sweden University and Östersund have long been an important hub for international biathlon activities. In 2022, that position has been strengthened as the university now has four PhD students who are researching various aspects of the sport.
– As far as we know, there is no other university that has managed to attract so many young, promising researchers with a connection to biathlon. It is a complex sport, a combination of two completely different disciplines (cross-country skiing and rifle shooting), with an extra weight that must be carried while skiing. The athletes must then hit targets when the body is heavily fatigued, says Marko Laaksonen, Associate Professor at the Swedish Winter Sports Research Centre and former national team leader.
Despite the great media interest and a strong development of the sport, research into biathlon has not been particularly extensive. Marko Laaksonen wants to change that.
– The complexity means that there are a vast number of parameters that affect performance, which in turn means that there is great development potential in the sport and here research can play an important role. Together, our four doctoral students will be able to contribute important insights, says Marko Laaksonen.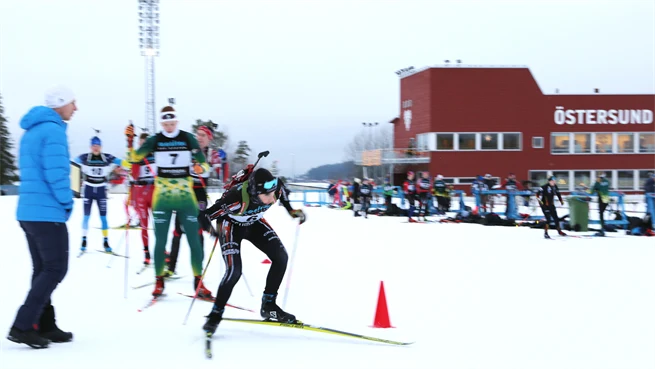 Östersund's ski stadium often serves as the test arena for various research projects in biathlon. Photo: Pelle Fredriksson.
Collaborative research is a key factor
Mid Sweden University has been collaborating with the Swedish Biathlon Federation for several years, and one of the four doctoral students is Andreas Kårström, who, within the framework of his doctoral employment, also works with applied research questions and development at the Swedish Biathlon Federation.
Andreas' research project aims to find better methods to measure training. The project is financed through, among other funding streams, Mid Sweden University's collaboration agreement with Sollefteå municipality and involves junior athletes from the municipality's biathlon high school.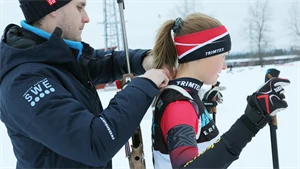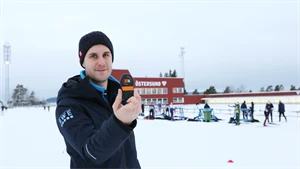 Field studies at Östersund's ski stadium where Andreas Kårström shows the sensors used in the research project. Photo: Pelle Fredriksson.
– We recently carried out tests where the junior athletes were equipped with special sensors that are connected to GPS, while they measure acceleration, speed and heart rate. The goal of the project is partly to give athletes and coaches a better understanding of the demands of biathlon so that they can optimize their training. At the same time, we also want to develop new methods for measuring training, says Andreas Kårström.
"Felt like the right choice"
Östersund municipality has for many years co-financed various biathlon research projects, including a project that Malin Jonsson Kårström is working on. Malin was the first biathlon PhD student employed at Mid Sweden University, and in addition to her and Andreas, two overseas PhD students have now also joined the university.
– It is great that we are getting more PhD students and that we have a small "biathlon hub" here in Östersund. There is still a lot we don't know about biathlon and together I think we will be able to fill some of these gaps, says Malin.
Hannes Kock is from Germany and completed his Master's Degree in Sports Science at Mid Sweden University.
– My interest in Nordic winter sports has gradually increased and Mid Sweden University felt like the right choice because there is a lot of expertise in the field at the Swedish Winter Sports Research Centre, he says.
After completing his Master's Degree at Mid Sweden University, Hannes got a job as a sports scientist in the biathlon group at the Institute for Applied Training Science (IAT) in Leipzig, Germany.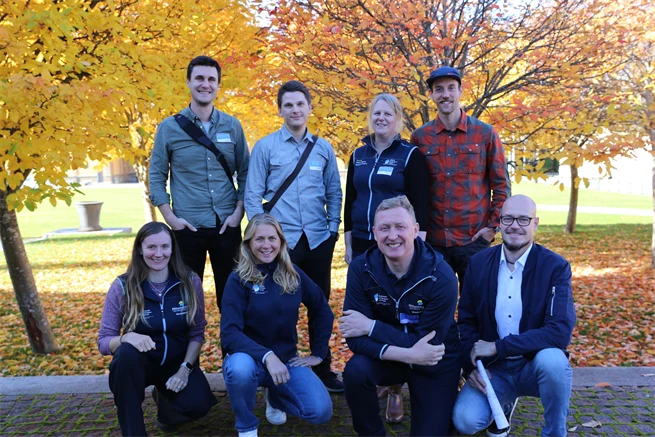 The doctoral students together with their supervisors Helen Hanstock, Kerry McGawley, Glenn Björklund and Marko Laaksonen, Mid Sweden University. Photo: Pelle Fredriksson.
– My research focuses on biathlon in Germany, because so far there is truly little written about this in German. Choosing Mid Sweden University was easy, not only because it feels like home because of the people who work there, but also the endless opportunities to increase knowledge in biathlon, he says.
Great potential for future collaborations
Miika Köykkä is a PhD student at the University of Jyväskylä in Finland but has turned to Mid Sweden University to get help with supervision in his thesis work. He envisions an expanded collaboration between the universities.
– Above all, I wanted to collaborate with an experienced researcher like Marko Laaksonen. Also, Mid Sweden University is optimally placed to conduct research into biathlon because the world's elite live and train in direct connection to the university. I see great potential for future collaborations between Jyväskylä University and Mid Sweden University, says Miika Köykkä.
Malin Jonsson Kårström is now in the final phase of her doctoral studies and will defend her thesis in February 2023.
– I think that more sport-specific research is an important part of biathlon being able to develop further. The fact that there are also several of us working on this from different angles creates a very inspiring environment, which in turn leads to new questions to try to answer, she says.
Links to project pages:
Contact:
Marko Laaksonen, associate professor, +46(0)10-142 83 84, Marko.Laaksonen@miun.se
Andreas Kårström, PhD student, +46(0)10-142 85 05, Andreas.Karstrom@miun.se
Malin Jonsson Kårström, PhD student, +46(0)10-142 88 30, malin.m.jonssonkarstrom@miun.se