Mid Sweden University brings together 150 international experts in green energy
Nanogenerators are a fairly new area of research and are about new technology for green energy production. When Mid Sweden University hosts the digital, international research conference NGPT in June, almost 150 researchers will participate for four days.
The NGPT conference is organized for the sixth time and brings together researchers from around the world in the field of nanogenerators and triboenergy. This is the first time ever that the conference is held digitally. The triboelectric nanogenerator is a newly developed technique since 2012.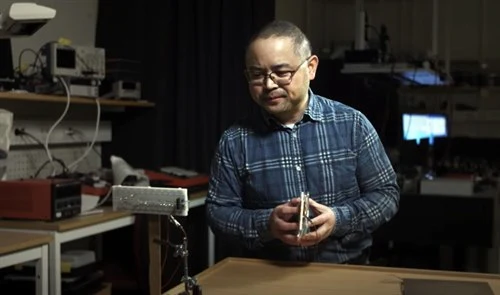 Photo: Slice
"Our body is doing physical movements every day, and the energy for doing such movements have been transmitted. With new technology, namely triboelectric nanogenerators, we can harvest energy from the body movements. The electricity generated by the body motions, for example, walking on the floor, can be used for lighting floor lights or emergency indicators. The success of the research in the area will change the energy supplies, especially for small electrics, where batteries are highly used today", says Renyun Zhang, Associate Professor and scientific project manager at Mid Sweden University.
The conference takes place between 20 and 23 of June and will be broadcasted from a studio in Sundsvall where researchers from Mid Sweden University are moderators and conversation leaders. There will also be various parallel sessions with research presentations and discussions.
"We planned to gather almost 400 researchers in Sundsvall this summer to show Mid Sweden University's research in triboenergy and let them visit Sweden and see Swedish midsummer traditions. However, there are still major restrictions in Asia due to the pandemic and when half of our expected participants come from there, we have chosen to switch to a digital conference", says Inger Axbrink, project manager for the conference at Mid Sweden University.
The founder of the conference is Professor Zhong Lin Wang who also have visited Mid Sweden University in Sundsvall several times. He is a foreign member of the Chinese Academy of Sciences, member of the European Academy of Sciences, Academician of Academia Sinica, Chairman, Nanoenergy and Nanosystems 2021, Director, Beijing Institute of Nanoenergy and Nanosystems, Chinese Academy of Sciences
Hightower Chair and Regents Professor, Georgia Institute of Technology
Prof Wangs tentative talk in the conference will be: From Triboelectric Nanogenerators to Maxwell Equations for Mechano-Driven Slow-Moving Media Systems
"We are looking forward to gather many researchers worldwide online to discuss the updated progress in the field of nanogenerators and piezotronics. The conference is very important for us to exchange new ideas and discuss collaborations. The conference had to cancel last year due to the pandemic", says Professor Zhong Lin Wang.
Other keynote speakers are Philippe Basset from France, Pooi See Lee from Singapore, Christian Falconi from Italy, Jun Chen from Los Angeles, Chris Bowen from the UK and about 20 others from various universities and institutes around the world. Most researchers participate digitally and give their lectures at a distance.
Read more about the conference at the conference website: ngpt2022
NGPT stands for; 6th International Conference on Nanogenerators and Piezotronics.
For more information:
Renyun Zhang, Associate Professor and Scientific Project Manager Mid Sweden University, telephone 072-581 60 84, e-mail renyun.zhang@miun.se
Inger Axbrink, project manager Mid Sweden University, telephone 070-393 16 43, e-mail inger.axbrink@miun.se