Ecotechnology, 180 credits
This three-year programme will give you a broad systems perspective on the relationship between environment, society and the natural resources of our planet. It integrates environmental issues with entrepreneurship and other skills to provide relevant knowledge for working in one of the world's fastest growing sectors – Ecotechnology and green business.
Autumn 2023
Standard course of studies, Östersund
Start:

Autumn 2023

Study form:

Standard course of studies

Study pace:

100%
Campus:

Östersund

Language:

English

Code:

MIU-B4M21
Application deadline: 17 January 2023
About the programme
According to OECD, the world market for environmental technology is one of the world's most rapidly growing branches of trade. The Bachelor's Programme in Ecotechnology combines and integrates knowledge from natural, social and engineering sciences. The objective is to give a broad understanding of how to avoid and prevent environmental problems. You will get a deep insight into global, regional and local problems related to the environment and the use of natural resources by human society. You will also develop skills and entrepreneurship which makes you well prepared to take care of today's and tomorrow's environmental challenges.

Previous students emphasise the benefits of the special teaching methods of the programme. They explain how it has provided opportunities for individual development and given room for creativity.

The teaching is problem oriented and it often contains thematic studies. Theory and practice are mixed in the courses. The programme starts with field studies in a beautiful mountainous area not far from campus. During the first year you will work with thematic studies in Environmental Science and Technology. To make an individual specialisation of the programme the second year contains one semester of optional courses. You finish your Bachelor's studies in Environmental Science by writing an individual thesis, which is often carried out in cooperation with a company, an organisation or an official authority, such as the municipality or the county administration.
Ecotechnology - one of the world´s most rapidly growing branches of trade.
Entry requirements
GENERAL ENTRY REQUIREMENTS
Graduation from a complete upper secondary education in Sweden or abroad with exemption from basic proficiency in Swedish. English course 6 from Swedish Upper Secondary School (Gymnasium) or the equivalent.

SPECIFIC ENTRY REQUIREMENTS
The following course levels from Swedish Upper Secondary School (Gymnasium) or equivalent: Chemistry course 1 or Mathematics course 3b or 3c or Mathematics course C.
Title of qualification
Degree of Bachelor of Arts/Science
Filosofie kandidatexamen med huvudområdet miljövetenskap translated into Degree of Bachelor of Science with a major in Environmental Science.
After the programme
During the programme you will carry out projects in cooperation with municipalities and companies, which make you well prepared for a future career focused on environmentally sound development within both the private and the public sectors.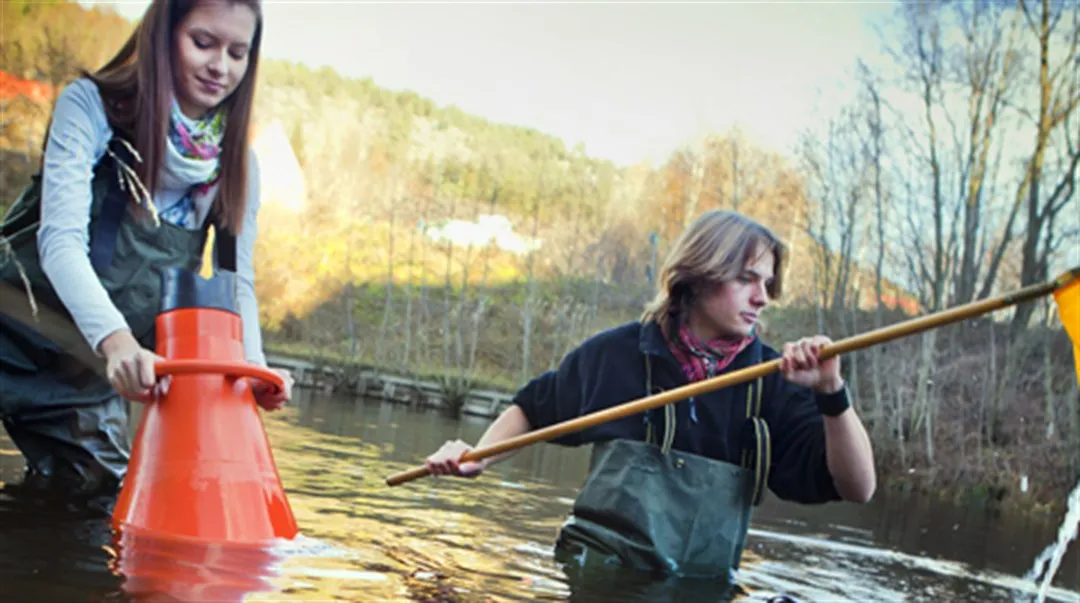 Kick-off for new students- Fieldtrip to Bydalen