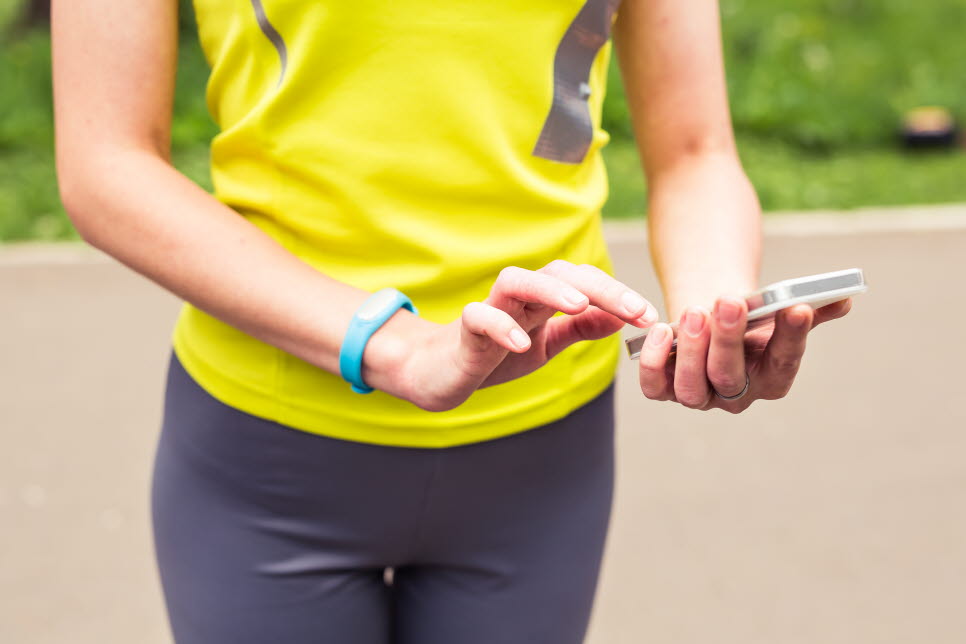 World-class products will be developed in the region of Jämtland-Härjedalen. Developing products that could make a difference in people's lives and create opportunities for young people and elite athletes, gets a boost from the European Regional Development Fund. Researchers at Mid Sweden University will be developing new methods, products and services for more efficient training together with regional and national companies in the sports and IT industry.
The project includes everything from real-time measurement systems to different types of services and products. A development that is possible through the use of new sensor technology. Small sensors can be integrated into textile materials, band aids, and other types of products, such as sports gear, and connected to different types of in-demand services.
- The research project Center för hälsoinnovation (English: Centre for Health Innovation), Home of Internet of Sports at the Swedish Winter Sports Research Centre has a turnover of SEK 12 million, half of which is funded by the EU. The project will be a part of the strong global development of what is known as "Internet of Sports". Today, research at the Swedish Winter Sports Research Centre is world-famous and has leading-edge expertise in physiology and biomechanics. We're adding more fields, for example computer science, and look forward to an internationalization that will benefit the region and its businesses, says H-C Holmberg, professor at Mid Sweden University and project manager at the Swedish Winter Sports Research Centre.
The project aims to develop exciting products based on an open innovation platform for partnership between academy, sports, and industry, where the Swedish Winter Sports Research Centre with their documented experience and knowledge, activity close research, unique close connection to sports, and extensive network can help stimulate regional "open" innovation and entrepreneurship.
- We'll be focusing on and stimulating recreational and elite sports in the project, and we have some exciting ideas about adding new experience values for various regional sports events in the years to come. Opening up for additional partners in innovation processes means more opportunities for everyone, says H-C Holmberg.
The project is a continuation of the successful Swedish Winter Sports Research Centre project Internet of Sports, funded by the EU 2013-14. This project was an opportunity to test sensor technology in a number of practical sports applications. A result of the project is an app for the annual long distance cross-country ski race Vasaloppet, helping participants to optimize training and skiing technique in addition to a number of articles in international scientific journals about so-called "wearables", used by recreational and professional athletes to plan and follow-up their training and take responsibility for their health.
- We're very excited that the Swedish Winter Sports Research Centre has received these funds, since their operation is important for our development and success as skiers. Field measurements using sensors and other IT technology is an area with great potential, says Rikard Grip, the Swedish cross-country team' manager.
Being located close to elite sports, the Swedish Winter Sports Research Centre is a unique source of knowledge for local product development. The project platform will be a good basis for development of new exciting products and services, where the market for these products is growing with incredible speed, nationally as well as internationally. In addition to supporting the industry in the region the project has considerable potential when it comes to making a positive contribution to better health and strengthening the international competitiveness of Swedish sports.
- In Swedish downhill skiing we're convinced that elite sports today, and even more so in the future, will be knowledge-driven. Those able to use modern technology to gather, understand, and manage large amounts of data will guide the development in sports, which is why we have focused on this very direction this past year. That the Swedish Winter Sports Research Centre led by the well- qualified ski researcher H-C Holmberg once again presents innovative project ideas will create opportunities for us to be a driving force in international downhill skiing, while at the same time stimulating the experience based industry and strengthening the Swedish alpine ski culture among all ski fans, says Tommy Eliasson, Alpine Director of the Swedish Ski Association.
Background
The EU has identified the sports sector as an area with great potential to help reach the objectives of the EU framework programme for research and innovation, Horizon 2020. The turnover and number of employees in the sports sector are steadily increasing. From 2007 to 2013 the turnover has increased from SEK 40 to 50 billion and the number of employees has increased from 20,000 to 25,000 (SCB 2015). From a financial point of view the sports sector is an important and growing part of the economy, which Center för hälsoinnovation, Home of Internet of Sports look forward to further strengthen.