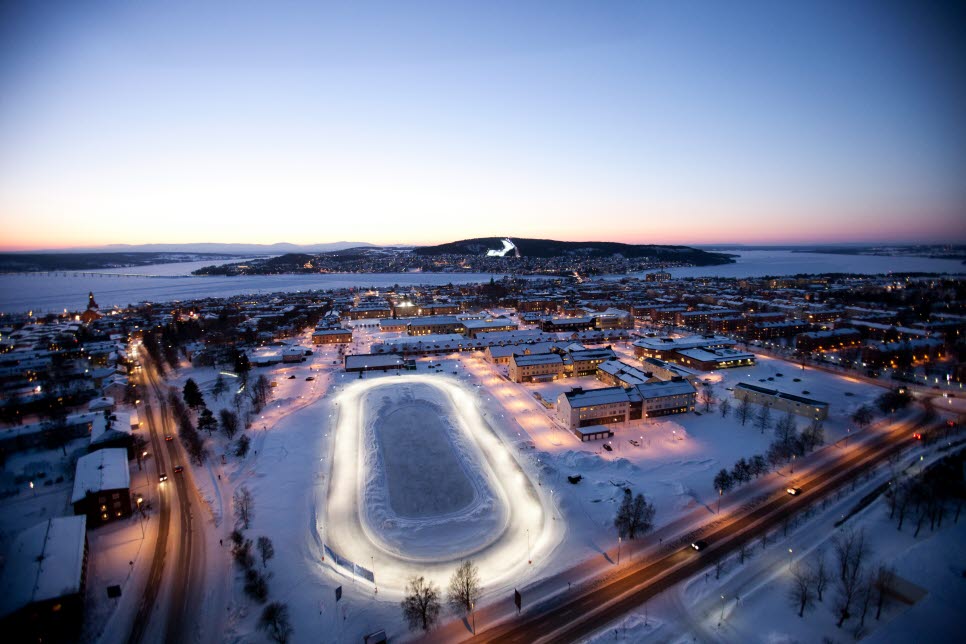 Welcome to the 7th ISEA Winter School in Sports Engineering, February 24th-March 2nd 2018 in Östersund, Jämtland - a melting pot for research, sports, business, entertainment and recreation, a unique environment for product development in sports and outdoor products.
We are proud to announce the 7th ISEA Winter School in Sports Engineering which will be based at Mid Sweden University and the winter facilities in Östersund.
Remember to register as soon as possible, number of places are limited.
Start and end for ISEA Winter School 2018
February 24th, we welcome everyone to Östersund.

February 25th, excursions through the Mid Sweden University facilities and lectures.

Next is group project work that will be completed on Wednesday afternoon with the presentations and the nomination of the best project work.

March 1st, we will spend the day having fun at the slopes in Åre, and finish the day in Östersund with a joint dinner.

March 2nd, "going home" day for those who would not like to stay longer in Sweden.
Projects and reading
You can find a brief description of the projects on offer together with suggested reading here.Listen
Daily schedule
Here you find a schedule for the ISEA Winter SchoolListen. Minor changes in the program may occur.
Course fee
500 €, professionals or company representatives
250 €, all students (ISEA members)
Non ISEA members need to get ISEA membership before coming to Winter School. For membership visit ISEA web page.
The fee covers all ISEA Winter School activities, breakfasts, lunches and dinners including final dinner on March 1st, ski pass, accommodation from February 24th to March 2nd inclusive.
Accommodation and meals
School participants will be staying at Ledkrysset, only about 7 minutes of walk from the Mid Sweden University. Regular meals will be served on Campus.
We can assist you if you want to stay an extra night in Östersund at Ledkrysset (not covered in course fee).
Day out in Åre
On March 1st we will arrange for a bus from Östersund to Åre and back for all participants. Lunch in Åre will be pre-booked. We will return to Östersund in time for the final dinner in the city.
If you need to rent equipment, you get a 25% discount on ski rental on the web with a rental company in Åre (rental fee is not covered in course fee). Use the promo code MIUN2018 to get the discount.
Registration
Registration and payment by January 26th, 2018. Register as soon as possible, only 30 student places are available.

Cancellation
In case of too few registered participants at the ISEA Winter School, Sports Tech Research Centre reserves the right to cancel the current course. Notifications are announced by mail if the course is cancelled and course fee will be refunded.
Getting to Östersund
By plane
Flights to Åre-Östersund airport are available via Stockholm-Arlanda or Stockholm- Bromma, flight time is about 1 hour. If you will be traveling via Bromma airport you will need to add time for bus transfer.
There are regular buses (Flygbuss) from Åre-Östersund airport to the city, it is only about 10 km. One of the bus stops is 7 minutes of walk from Ledkrysset.
Additional option is to fly to Trondheim-Vaernes airport (TRD) and take a train to Östersund.
By train
You can go by train from Arlanda airport, it is not necessary to go to Stockholm city if you do not want to.
By car
It is about 5 to 6 hrs travel time to Östersund from Arlanda airport, but you should be skilled in driving on snowy and icy roads.
Please let us know if you need help with timetables or additional information how to get to Östersund.
Visa
For those who need Swedish Visa, please contact organizers as soon as possible so we can produce corresponding invitation letter for you. More information on Visa.
Information
For information related to registration and formalities, contact Brita Åkerström, Mid Sweden University.
For information related to program and projects, Andrey Koptyug, Sports Tech Research Centre, Mid Sweden University.

Useful links