New version of Windows 10 - Your computer will restart
On October 13, 2020, Microsoft support for Windows 10 v1709 will cease and the platform will no longer receive security updates. We need to upgrade such systems on Miun to Windows 10 v1909. In connection with this, the computer will need to be restarted.
You can check if your computer is affected by this update by clicking Start, typing winver and pressing Enter. The box that appears states which version of Windows it is on the computer. If you already have Windows 10 v1909 on your computer, it does not need to be updated.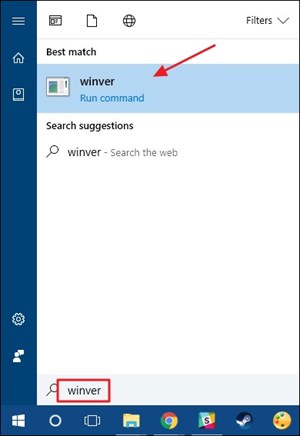 From October 13, on the computers affected and have contact with the server on Miun either on campus or via VPN, a box will appear with information that there is a critical update that needs to be implemented by November 1.
It is possible to carry out the update directly, outside working hours or snooze to a later time.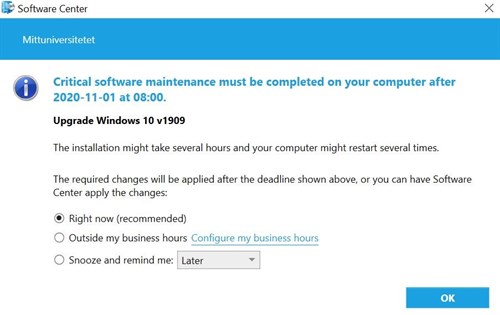 When the update starts, a meter appears that shows the first part of the update, when it reaches 100% the computer will restart after 30 seconds and it is not possible to stop. After restarting, the computer will be working on the second part of the update. When done, the regular login box will appear again.
The entire update takes about 60 minutes to complete and is suitable to start, for example, at lunch or after the end of the working day. If you have snoozed the box and want to start the update, you will find it in the Software Center on your computer.
Note that after November 1, the update process described above will be performed as soon as the computer connects to the server at Miun without any options.
If for some reason the update process cannot be performed on the computer, a message about it will appear on the screen. The computer will then need to be updated manually by technicians. Contact Helpdesk for further instructions.