STC research environment started in 2005 and has developed from a small research environment with only two professors to a large and recognized research environment involving more than 70 personnel. A key factor for this development was the funding of a profile from the Knowledge Foundation in 2005. This boosted the identity of the research environment that has led to a large growth in funding from different sources.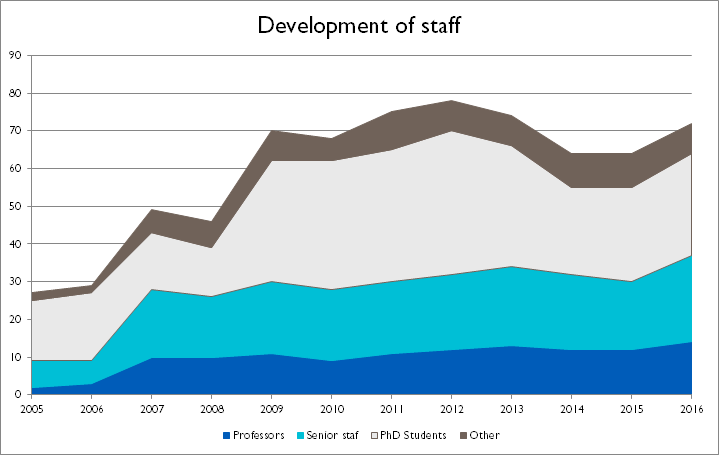 In 2011 STC, together with research centre FSCN, was selected to be the first KK-Environment at Mid Sweden University. Only two other universities in Sweden have been announced to have a KK-Environment. In 2013 STC evolved once again when becoming a research centre at Mid Sweden University.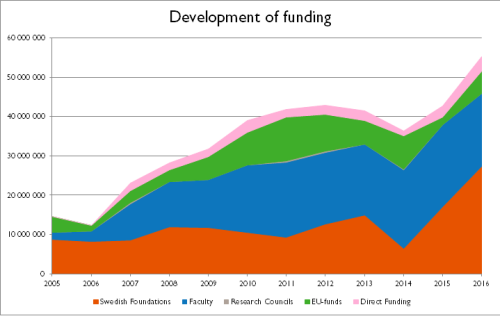 Funding
The external funding during 2013 and 2014 has temporally decreased, mainly due to a gap between the funding periods of the European regional funds. The funding from KK-Foundation has also decreased during the reformulation of our strategic direction within the KK-Environment, but this is expected to increase now when the strategic direction is more clear.

The temporally decrease in funding has been in the plan for some time and has been handled such that the acceptance of new PhD-students has been delayed for 1-2 years, which is clearly show in the graph over the number of personnel.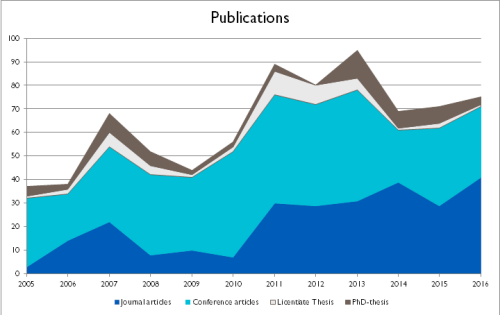 Publications
In the academic production, the effect of a large examination of PhD-students is show in high production of PhD-thesis but also the drop in the number of the number of PhD-students also shows as a drop in conference publications during the last year of the period.