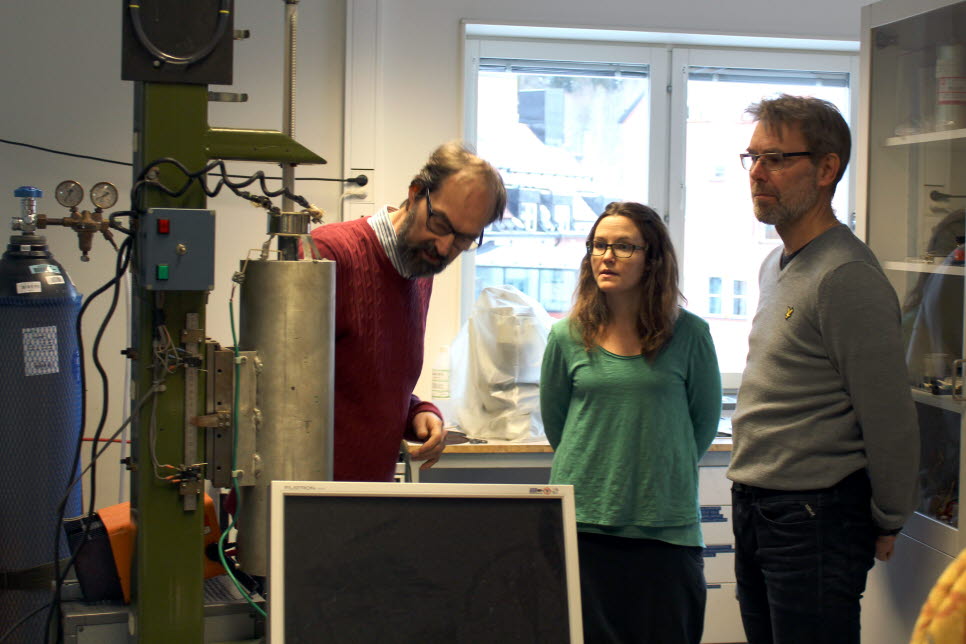 Thursday, February 4, Jeanette Eriksson and Robert Öhman from Skultuna Flexible visited Mid Sweden University to get an update on the progress in the research project ID Pos, where Skultuna Flexible is one of five business partners. During the meeting, Jeanette and Robert got a tour of the labs and meet several researchers to exchange experiences and ideas.
Article in Swedish:
Forskningssamarbete för positionering med RFID på stora ytor
Torsdagen den 4 februari besökte Jeanette Eriksson och Robert Öhman från Skultuna Flexible Mittuniversitetet för att få en uppdatering av utvecklingen i forskningsprojektet ID-Pos där Skultuna Flexible är en av fem företagspartners. Under mötet fick Jeanette och Robert en rundvandring i labben och träffa flera forskare för att utbyta erfarenheter och idéer.
Skultuna Flexible är ett svenskt bolag som tillverkar olika typer av metall/substrat lamineringar specialanpassade till varje kund behov. Man arbetar enligt rulle till rulle metoden och sammanför olika typer av material i en laminering för att få fram olika egenskaper. Skultuna Flexlible har inga stora varulager och standardlösningar utan all produktion sker i större volymer direkt anpassade enligt kundens önskemål. De levererar material till tillverkare av alltifrån antenner till mobiltelefoner till exklusiva förpackningar. Skultuna Flexible har även ett dotterbolag i Belgien, Induflex, som arbetar enligt samma metod.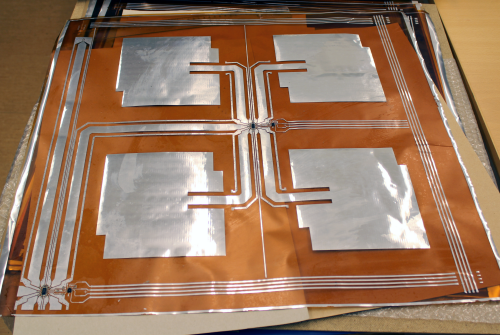 Materialet till denna stora RFID-antenn har levererats av Skultuna Flexible.
Forskningssamarbetet med Mittuniversitetet började på initiativ av STC forskaren Henrik Andersson som länge varit intresserad av Skultuna Fleixbles produkter och materialkunskap. Skultuna Flexible har tidigare erfarenhet av forskningssamarbeten och var positiva till att knyta ett nytt partnerskap med Mittuniversitetet för att kunna utbyta idéer och nyttja varandras labb och utrustningar för produktutveckling.
- Vi vill först och främst lära oss mer om material och olika tekniska lösningar som på sikt kan utveckla Skultuna Flexibles produkter och hitta nya kunder. Att kombinera tekniker som NFC, RFID med IoT kan vara en framgångsfaktor när det gäller nya kunder för oss, säger Robert som arbetar som Business Area Manager på Skultuna Flexible.
Han poängterar också att det är viktigt att hitta en potentiell slutkund som har ett behov av den teknik man utvecklar inom projektet.
- Då är det lättare att motivera oss som företagspartner att lägga mer tid och resurser på ett forskningssamarbete, säger Robert.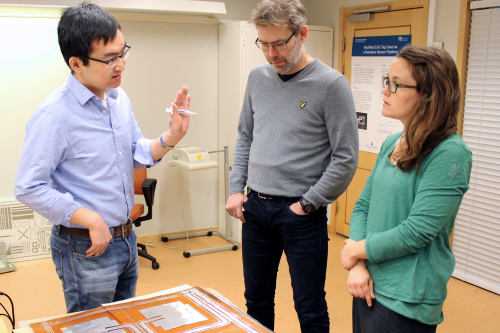 Doktoranden Xiaotian Li presenterar sin forskning för Robert Öhman och Jeanette Eriksson på Skultuna Flexible.
Än så länge har forskningsprojektet ID-Pos inte kommit så lång som planerat i forskningsprocessen men nu har doktoranden Xiaotian Li anställts på heltid för att utveckla RFID antenner för positionering på stora ytor. I tillverkningen av RFID-antennerna används material från Skultuna Flexible som förutom ett stort materialutbud också har en stor kunskap om materialens egenskaper som är ovärderlig för forskningen.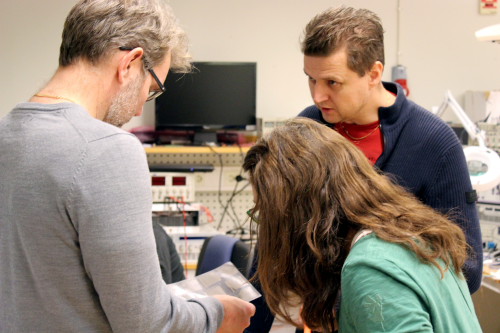 Forskaren Kent Bertilsson får tips angående materialval.
Under besöket visades Jeanette, som arbetar som development manager, och Robert runt i Mittuniversitetets labb där olika forskningsområden presenterades. En viktig del av mötet var att träffa forskare från andra forskningsområden för att presentera verksamheten och utbyta idéer vilket kan leda till nya samarbeten och forskningsframsteg. Mittuniversitetets forskare har vid tidigare tillfällen besökt tillverkningen i Skultuna för att lära sig mer om hur Skultuna Flexible arbetar och vilka resurser som finns att tillgå.