Teams is an online meeting and collaboration tool. All Mid Sweden University students will have access to Microsoft Teams as part of their Miun account at the start of the semester 2021.
Download Teams
Teams is one of the apps in Office 365. Here, you can find more information about how to download Office 365. You can download the software from any computer by logging into office.com and selecting the app Teams. To log in:
Username: username@student.miun.se
Password: please use your Miun account password
In addition, the Teams app is available for mobiles.
Functions in Teams
Online meetings
You do not have to have a team to create online meetings. Make sure you have a headset or headphones with a microphone to ensure good sound, which is crucial for well-functioning meetings. You can join a Teams meeting on the web or by downloading the app to your computer or mobile.
Create a team to collaborate
You can choose the participants of a team. Teams can be private, i.e. limited only to invited persons, or public. If your team is public it is available for all Teams users at the university to join and read what is written in the team, both students and staff.
Here you manage the settings public or private team: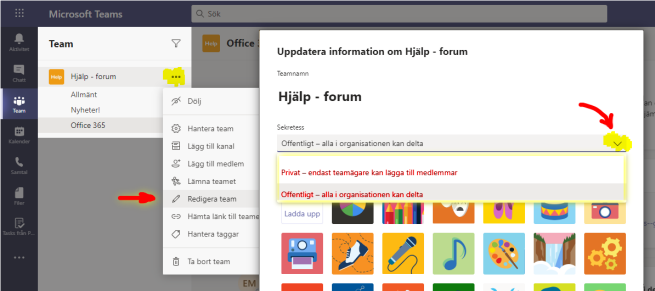 Keep up the dialogue by means of channels
When you create a team, a general communication channel is created, where all members of a team may start threads. It is possible to create sub-channels to communicate about specific topics. You can mark your favourite channels and read other channels when you need to. By means of conversation threads, all members of a team can see the dialogue and follow ongoing discussions.
Notebooks
OneNote notebooks can be added to a team to save notes from meetings.
Planning a project
If you work in a project, you have the option to connect the app Planner to your team. In Planner, you can create tasks, add deadlines and assign tasks to your team members. By using Planner, everyone in the team gets a general overview and are able to follow the process. There are also other tools for project management in Teams.
The team owner has responsibilities
The team owner manages some of the settings for the team. This responsibility includes, among other things, adding and removing team members and deciding what is allowed and not in a specific team. As the team owner, you are fully responsible for the data of the group; i.e. making sure that it complies with the contingency liability and regulations of the university and Swedish law. When the team is no longer needed, it is the responsibility of the team owner to remove it.
Chats and conversations in Teams
Please note that members of all teams should have a constructive dialogue characterized by mutual respect. The tone of the chat should be friendly and the comments should be sincere and balanced.
Sensitive and confidential information
Please note that sensitive personal data, such as information about health, ethnicity, a person's sex life, biometric data or other confidential information, often found in HR systems, log information, research data, procurement process information etc. should not be handled in Teams.
Please note that if combined, several non-sensitive pieces of information can become sensitive data.
Team names
Teams with in appropriate names or names reminding of organizational units of the university will be removed. Please make sure to use unique and descriptive names for your teams to make it easier to understand what the group/team works with.
Removal of a team
Teams who do not have an owner will be removed. If a team has been inactive for more than six months, it may be removed. When a team is removed, all information about the team is removed, i.e. files, chat, planners etc. are permanently removed. This is why it is important to keep your team active. If there is no longer a purpose for the team, remove it!
Support
Support pages for Teams meetings