NGPT 2022 research conference
Mid Sweden University, FSCN, hosted the international conference NGPT in June 2022. Around 130 researchers in nanogenerators and tribo energy joined the sessions.
Renyun Zhang, from Mid Sweden University was scientific host of the 6th International online Conference on Nanogenerators and Piezotronics. The conference were online due to covid restrictions in Asia and we streamed the sessions from a studio in Mid Sweden University.
Magnus Norgren, Renyun Zhang, Haider Iftikhar, Hans-Erik Nilsson, Sebastian Bader, Kaarlo Niskanen, Håkan Olin and some more researchers from Mid Sweden University joined the program.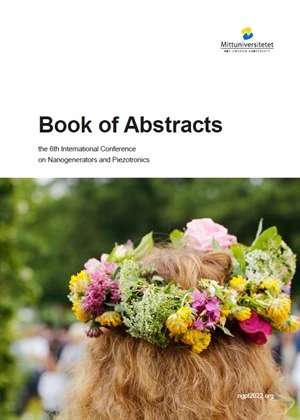 Book of Abstracts
Here is the Book of Abstract with the abstracts submitted to NGPT 2022. These are the original abstracts and posters submitted to NGPT 2022.

Program
The online program was devided into three parallel sessions with presentations. There were also poster sessions and keynote sessions with the 8 keynote speakers.
Download Program of the NGPT 2022 conference