STC meets a world leading boat manufacturer from Docksta
To this year's last Business Innovation Seminar Andreas Nordstrand Technical Director at Dockstavarvet outside Örnsköldsvik was invited as a speaker. Andreas presented the shipyard's old history that started out with simple wood boats until today military monster boats.
Dockstavarvet was founded 110 years ago when the first wooden boat was built in the shipyard. Today the company focus at produce high-quality, advanced, aluminum boats for military and non-military applications and Dockstavarvet is today a world leading company in its field.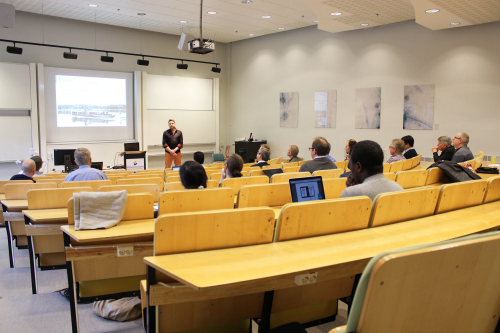 Each boat is customized to the client's needs and consists of highly advanced electronics and equipment. The most common boat called CB90 is 20 meters long and at the very limited surface advanced equipment share space with personal rooms like the kitchen, bathroom and resting areas. It sets high demands on the knowledge of the boat's characteristics, materials, design and function.
The boat has a maximum speed of 50 knots, which can create an incredibly loud noise from the engine and as well from the water surface. Previously, the noise level reached 90 db which required the passengers to use earplugs. After several improvements on the boats by Dockstavarvet the noise level now is below 70 dB which is equivalent to the sound of a car.

High quality is something that is highly valued at Dockstavarvet and is seen as a great competitive advantage against other actors on the market. Something that is also noticeable by the boats' long life. After 20 years of use the boats gets repaired and then up to 95% of the boat is reused and survive for another 20 years.

Challenges for the future consists of keeping the market lead and stay ahead of the competition that is getting better and better. Andreas thinks that there is great potential within smart systems and services for the company and their products. With smart systems and services Dockstavarvet could offer their customers better service and maintenance, and perhaps even new contract solutions in the future. Maybe you can rent a boat with full service in the future?

This was my first meeting between Mid Sweden University and Dockstavarvet. The goal with the meeting was to get to know each other better to find potential areas of cooperation. Researchers at STC research center (Sensible Things that Communicate) are experts in wireless sensor systems in industrial environments and in Internet of Things, hopefully there will be several new areas of cooperation with Dockstavarvet in the future.