Researchers visited Hexatronics factory in Hudiksvall
On Business Innovation Day October 17 researchers from Mid Sweden University met Roger Färlin from Hexatronic Cables and Interconnect Systems for the first time. They discussed solutions on the challenge that Roger brought with him. The challenge is to optimize the fiber blowing and now researchers have visited Hexatronic in Hudiksvall to deepen cooperation further.
Hexatronic is a company that develops and manufactures fiber optic cable and infrastructure solutions for telecommunications companies and has its headquarters in Hudiksvall. Today they are very satisfied with their products but would like to remain at the forefront. Therefore Roger sent in his challenge to researchers at the Business Innovation Day. The challenge is to optimize the blowing performance at the fiber installations by identifying which parameters or combinations of parameters that affect blow ability most, such as friction and static electricity. This knowledge can simplify choice of material and make Hexatronics products better and more competitive in the market.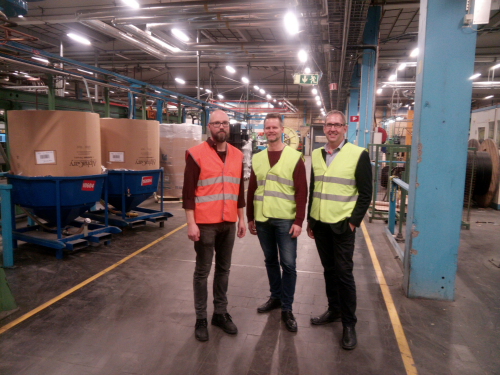 Roger Färlin, Hexatronic, Associate Prof. Johan Sidén and Torbjörn Jonsson, Fiber Optic Valley.
At the first meeting at Business Innovation Day in Sundsvall there were researchers from different areas who got acquainted with the challenges and they discussed some of the parameters that affect the friction during fiber blowing. In December it was time for researchers to visit Hexatronics factory in Hudiksvall to further understand the challenge and identify possible areas of cooperation. Participant on this follow-up meeting was Associate Professor Kent Bertilsson and Associate Professor Johan Siden who today already work in research projects on fiber blowing at Mid Sweden University research center STC. At the meeting was also Torbjörn Jonsson, VD at Fiber Optic Valley, initiator to the meeting between Hexatronic and Mid Sweden University. Fiber Optic Valley is an innovation environment based in Hudiksvall working to bring researchers and companies together to bring research results out on the market to create new partnerships.