Super image at a nano level winner in high school essey competition
During the graduation ceremony at Sundsvalls Gymnasium Västermalm, the winners of this year's essay competition arranged by Mid Sweden University, was persented. The first prize, a scholarship of 5,000 SEK, went to Elias Ärlebrant, who wrote a essey on super image with nano resolution.
It was for the thirteenth time that Mid Sweden University arranged an essay competition for pupils studying the second year on technical and science programs at Sundsvall Gymnasium, Västermalm. The purpose of the essay competition is to raise the interest of technology and research for young people. To support their writing, pupils have been offered lectures from Mid University researchers on 3D visualization, environment, cool lasers and how to search information and libraries.
- We have received many interesting essays this year where the students showed a visionary thinking and challenged our traditional norms. We hope this competition raises awareness of research and its importance to society, says Börje Norlin.
The theme of this year's competition was Smart Societies, and in the jury there are researchers STC and FSCN. The researchers Börje Norlin and Enkeleda Balliu were in place during Thursday's summer ending June 15th to award the winners. The five winning grants received scholarships totaling 11 000 SEK.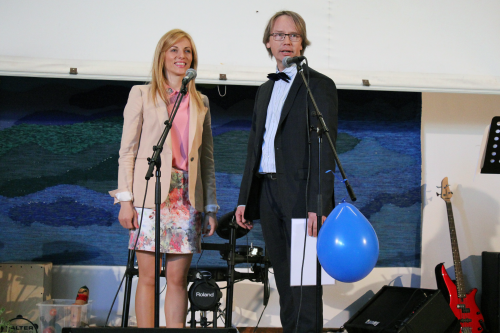 Winners:
1:a pris Elias Ärlebrant – "Superbild med upplösning på nanonivå – att se det ingen trodde var möjligt"
Motivering: En vetenskapligt mogen uppsats om hur 2014 års nobelpris påverkar framtidens medicin. Uppsatsen beskriver på ett tydligt sätt hur mikroskopi med interferensmönster möjliggör att studera levande materia och processer i celler.
2:a pris Axel Hellberg – "AI: Den mänskliga faktorns botemedel eller människans undergång?"
Motivering: En visionär framtidsblick om att stabilisera de demokratiska processerna genom att applicera artificiell intelligens på politiska beslut.
3:e pris Paulina Persson Winlöv – "Vågkraft – Framtidens ledande energikälla!"
Motivering: En väl förankrad teknikstudie om hur vågkraft kan lösa energiproblem i kustnära storstadsregioner.
4:e pris Anders Tellberg – "Naturen, den bästa ingenjören?"
Motivering: En engagerande diskussion om hur teknisk utveckling kan dra lärdom av naturen, t.ex om hur bruna kiselalger absorberar solenergi.
5:e pris Lovisa Berglund – "Framtidens jordbruk- datorer i människans tjänst, agbot"
Motivering: En visionär genomgång om hur robotar i jordbruket kan bidra till att lösa framtidens matbehov.