Workshop on Internet of Things and IT security
On September 7, STC arranged a workshop on security and Internet of Things. A controversial area about how we can protect ourselves when more and more things becomes connected. Who really think of the risk of being hacked when buying a connected kettle that you can control with your phone? How should we relate to our digitized environment?
IT security and the Internet of Things (IoT) are very relevant areas in today's digitaized society that affects both companies and individuals. In order to raise awareness and to demonstrate interesting research in the field, STC invited to a workshop together with Ulf Jennehag, researcher at STC and Patrik Jonasson, CEO IT Säkerhetsbolaget. The day started with a number of examples from when it went wrong. One example was when Sony Pictures Entertainment was hacked by North Korea after they released the movie The Interview. North Korea did not like the movie's message and therefore they hacked Sony Pictures Entertainment and began spreading their secret documents on the internet. Everything from lists of actors to script on upcoming movies. Of course, this was not good for Sony.
- A common problem with IT security is the lack of knowledge. It is important to know which actions is effective, feasible and sufficient, explains Ulf Jennehag, researcher at STC.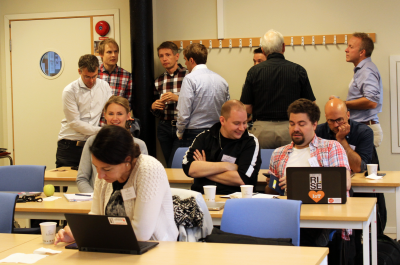 One of the participants at the workshop was Åsa Jadelius, IT Strategist at Sundsvall municipality. She sees the possibilities with IoT, but thinks it's a rather long process to implement the new technology in the business. Right now, they are at a stage trying to identify skills required by the new market.
- We use some solutions that are enabled with IoT, for example, when it comes to car parking in the center of Sundsvall, you can see signs with information about where to find available parking spaces. Also, IT security is obviously an important issue that requires thoughtful decisions, says Åsa Jadelius.
How should we do then, to safely use the Internet of Things? During the workshop, it became clear that more knowledge and time is important components. IT security is an issue that must be prioritized the more digitized the society becomes. Also, as a private person you should have common sense, not click on unknown links and hear an alarm clock before accepting an app that wants to have access to all the information in your mobile.
- Knowing more about risks, methods and technics is a good start to a successful IoT project, says Ulf Jennehag.
The workshop also discussed the new EU General Data Protection Regulation (GDPR) which will take effect during next year. For more information about GDPR visit http://www.eugdpr.org/