Hacettepe University visits STC
This week we had a visit from Associate Professor Sevil Şen Akagunduz and PhD student Emre Aydoğan from Hacettepe University in Turkey. The visit is the first step in the STINT-granted project withing the development of Industrial Internet of Things security, IIoT. The project started in September and the Project Manager from STC's part is Dr. İsmail Bütün.
Dr. İsmail Bütün at STC is the Project Manager from Mid Sweden University and Associate Prof. Sevil Şen lead her team from Hacettepe University. The project also includes STC Senior Researchers Dr. Ulf Jennehag and Dr. Stefan Forsström. Prof. Mikael Gidlund, Prof. Tingting Zhang. Dr. Patrik Österberg from Mid Sweden University will be advising the project. Read more about the STINT project in a previous article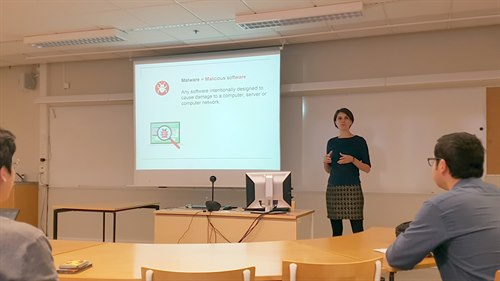 Dr. Sevil Şen Akagunduz held a seminar "Co-evolution of Mobile Malware and Anti-Malware" during her visit and our PhD students had a chance to get to know each other and to plan the current project.