The Student Health Centre provides preventive health care for students at Mid Sweden University and is a complement to the public health care system. If you are sick and need to see a doctor you should contact the Public Health Centre.
Christmas Calendar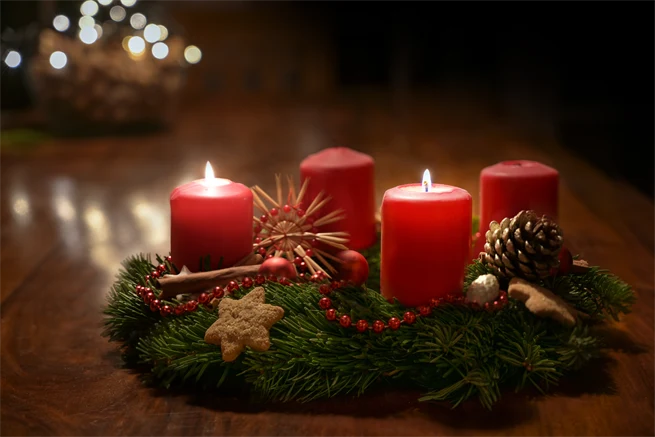 Join the Student Health Care's Christmas Calendar where you can tick for a feel-good activity every day until Christmas Eve. Take a powerwalk, coffee outside or say something nice to someone else.
To the calendar
The Student Health Centre can help you with:
Personal guidance
Conversational therapy
Lifestyle questions
Crisis support
Relationship questions
Questions about alcohol and drugs
Nurses: Drop-in nursing services are available at all our campuses. You can also make an advance appointment by calling the nurse at your campus. See contact information below.
Welfare officer: Make an advance appointment by calling directly. Our voice mail box is open during counselling sessions. Record your name and telephone number in the voice mailbox and the welfare officer will return your call.
Public Health Centre
If you are injured, fall ill, or if you need advice during a weekday during daytime, you can contact your nearest district health centre, "Vårdcentral". If you fall ill in the evening, at night or during the weekend, you should first phone the medical advice line, 1177. Their phone numbers and brief information in English is provided at the county councils websites:
Please note: When seeking medical attention in Sweden, you need to bring your Health Insurance card or a Health cover form.
If you fall acutely ill – Call 112
If you need immediate help, as a result of an accident or an acute condition such as extreme pain in the chest or stomach, excessive bleeding, difficulty with breathing, an automobile accident, etc., CALL 112. Be ready to say WHO is calling, WHAT has happened, and WHERE it happened.
If you get sick
At Student Health Centre
All visits are free-of-charge, and people there are committed to professional secrecy.
Contact information
Campus Sundsvall
Student nurse Carin Täpp
House: N, 3rd floor
Phone: 070-721 64 67
E-mail: carin.tapp@miun.se
Visiting hours: Thursday 8-12
Counselor Stefan Dahlén
House: N, 3rd floor
E-mail: stefan.dahlen@miun.se
Visiting hours: Tuesday, Wendsday and Thursday after 13.00 pm
Chaplain Pether Bertilsson
House: N, 4th floor
Phone: 073-271 01 41
E-mail: pether.bertilsson@svenskakyrkan.se
Call or e-mail to book an appointment

Campus Östersund
Student nurse Margareta Arntsen
House: G, 3rd floor
Phone: 010-142 81 29
E-mail: margareta.arntsen@miun.se
Visiting hours: Thursday 8-12
Please e-mail to book an appointement
Counselor Marlene Gustavsson
House: G, 3rd floor
E-mail: marlene.gustavsson@miun.se
Visiting hours: Monday, Tuesday and Friday 10.00 - 14.00
Please e-mail to book an appointment
Chaplain Karolinn Strandberg
House: G, 3rd floor
Phone number:
E-mail: karolinn.strandberg@svenskakyrkan.se
Visiting hours: By appointment
Please e-mail to book an appointement
If any questions, please contact:
Helena Söderberg
Student Health Center Coordinator
Phone: 010-142 84 87
E-mail: helena.soderberg@miun.se