On September 19-20 2017 we gathered with partner companies and funders to discuss and evaluate results from the research program e2mp - energy efficiency in mechanical pulping.
Partner companies were Holmen, SCA, Valmet and Stora Enso, and PFI (Norge), Chalmers, SLU, LTH, Andritz and Norske Skog.
Project leader was professor Per Engstrand, Mid Sweden University.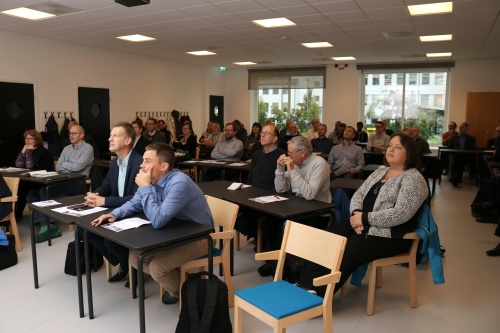 Vid fullskaletester har vi visat att vi kan minska energiförbrukningen med ca 25 procent jämfört med dagens teknik i pappersbruken. Resultaten i demoskala vid pappersindustrin uppgår till 30 procents energireduktion för tryckpapper och 27 procent för kartong. De studier som genomförts hittills gör det troligt att slutmålet på 50 procents energireduktion bedöms fullt möjligt att uppnå till år 2021 som var den ursprungliga målsättningen för forskningsprogrammet. Forskningen har bedrivits med stöd från Energimyndigheten, KK-stiftelsen och Norges Forskningsråd. Läs mer på www.e2mpi.se.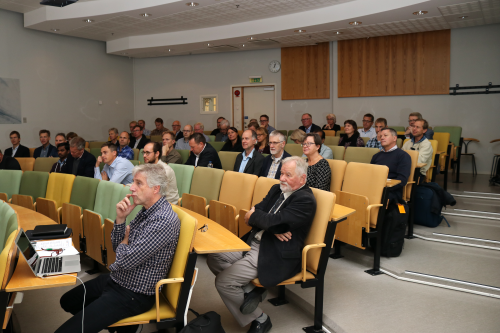 Presentations during the seminar
Anders Fällström, Mid Sweden University
Introduction and background to e2mp Jan Hill, QualTech
e2mp project portfolio Per Engstrand, Mid Sweden University
Fundamental principles of energy efficiency in TMP/CTMP Hans Höglund, Mid Sweden University
Softened TMP refining, new segment design Birgitta Engberg, Mid Sweden University
Chip pretreatment from lab to mill Louise Logenius, Mid Sweden University
Chip pretreatment, mill implementation Braviken Erik Nelsson, Holmen Paper/Miun
Modified chipping Per Engstrand, Mid Sweden University
Microwaves Geoffrey Daniel, Sveriges Lantbruksuniversitet
BAT study and sampling Olof Ferritsius, Mid Sweden University
Process intensification and energy efficiency Christer Sandberg, Holmen Paper/Miun
Fiber development and energy efficiency Olof Ferritsius, Mid Sweden University
HC-LC refining Rita Ferritsius, Stora Enso/Miun
LC refining Christer Sandberg, Holmen Paper/Miun
e2mp-ox Lars Johansson, RISE/PFI
Intensified refining incl Skoghall case study Jan Hill, QualTech
Advanced HYP for board Thomas Granfeldt, Valmet
Strong paper from HYP Gunilla Pettersson, Mid Sweden University
CTMP developments and new opportunities Sven Nogren, Mid Sweden University
Ultrasound treatment Örjan Johansson, Luleå Tekniska Universitet
Fix the mix Olof Ferritsius, Mid Sweden University
Reflections and opportunities, wrap up discussion Per Engstrand et al. Mid Sweden University
Future research Per Engstrand, Mid Sweden University