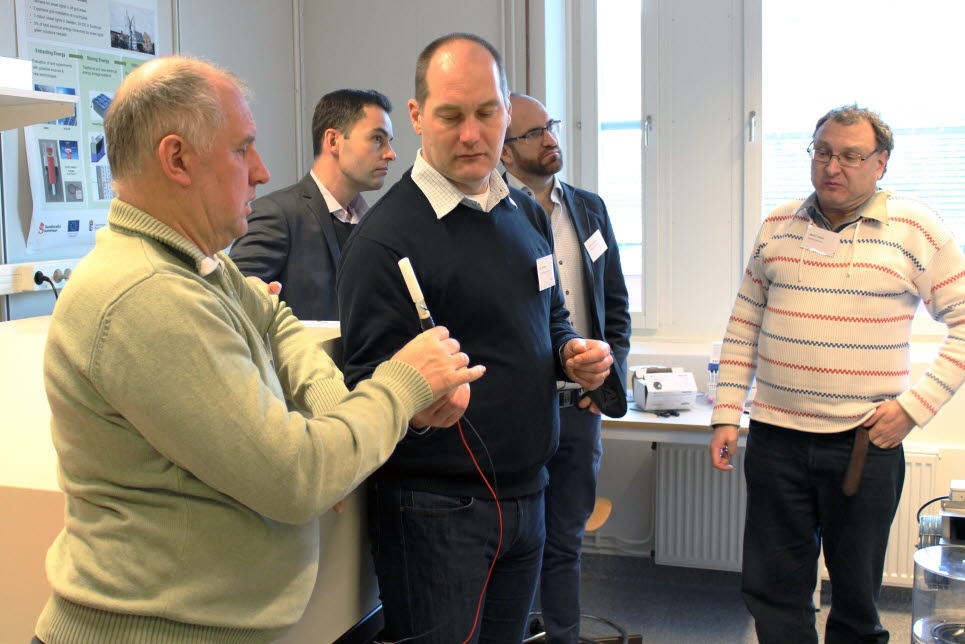 BillerudKorsnäs is one suggested partner company for the research project KM2. Ole Norberg works as manager for technology centre functional surfaces at Billerud Korsnäs Frövi. Here follows an interview with Ole in Swedish.
Den 19 januari samlades företag och forskare för att diskutera utvecklingen i de tre forskningsprojekten KM2, Leap och IFUS. Dagen inleddes med en presentation av samtliga forskningsprojekt och därefter fick företagen en rundvandring i Mittuniversitetets forskningsmiljöer. En av företagsdeltagarna var Ole Norberg som är chef för Technology center functional surfaces på Billerud Korsnäs i Frövi.
Billerud Korsnäs i Förvi tillverkar material för förpackningskartonger och är ett av företagen som är intresserade av forskningsprojektet KM2 där forskare tillsammans med företag ska utveckla nya innovationer inom grön energi med fokus på att skörda energi på nya platser, lagra energi effektivare och minska energianvändningen.
Hur kommer det sig att ni är med och samarbetar i KM2?
- Billerud Korsnäs har samarbetat med Mittuniversitetet tidigare men det här är första gången som jag personligen är med i ett samarbete med Mittuniversitetet och får en presentation av den forskning som bedrivs här, säger Ole Norberg. Vi arbetar med förpackningsmaterial och ser att utvecklingen de närmaste 5-10 åren lutar åt att materialen ska få fler funktioner kanske framförallt elektroniska funktioner som kopplar mot Internet of Things. Det kan till exempel vara en mjölkförpackning som larmar när mjölken blir sur eller en förpackning som varnar när den utsätt för kyla. Med sensorer kan man utöka funktionerna för en förpackning.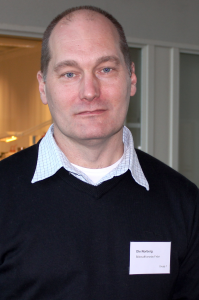 Vad har ni för mål med samarbetet?
- Vi ser detta som första fasen i utvecklingen och vi vill se vad som kommer att krävas av våra produkter för att hänga med i utvecklingen. Idag är vi duktiga på att trycka färg på våra olika material men vi vill lära oss mer om hur vi trycker elektronik och ledande bläck. Hela industrin står inför ett skifte och vi vill vara med i täten. Jag tror att vi är rätt tidigt ute i utvecklingen och man måste hänga med nu, snart blir detta standard för våra produkter.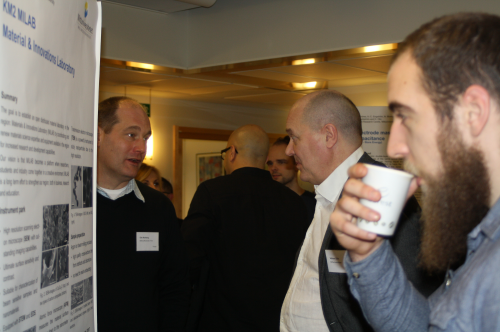 Hur har dagen varit?
- Det har varit en bra dag. Vi har fått presentationer om alla projekt som ingår och rundvandringen i labben var rolig. Det är roligt att se vilka stora projekt som universitetet har och att labben utvecklas. Jag har själv en bakgrund som forskare på Mittuniversitetet då på avdelningen DPC (Digital Printing Center) i Örnsköldsvik.