HC Holmberg – professor, inventor and entrepreneur
He is described as a miracle man and the Gyro Gearloose of long-distance cross-country skiing. He has devised a successful slimming method, introduced the "gear change" technique in skate-skiing and is currently studying how pushchairs can be used as digital exercise tools. Meet HC Holmberg, the professor who has devoted his life to sports science.
By the end of the morning he has already fitted in a weight training session and swum in the pool. His hair is still wet as he makes his selection from the lunch buffet in Åre. Another exercise session awaits after lunch. Back problems that began almost 40 years ago cut short a career as a professional basketball player but this did not stop him pursuing sports and exercise in normal life. He exercises about 12 hours a week but he has also reduced his workload a little since moving here.
He says he doesn't work full-time any more.
The question is if full-time means 40 hours a week for him. It doesn't feel like it.
"No, obviously not. I probably work between 60 and 70 hours a week, not 40. But I see it as a lifestyle," he says.
From psychology to winter sports
Hans-Christer Holmberg's path to becoming professor of sports science was not entirely straight. But looking back perhaps we can say that despite the twists and turns the path was nonetheless always leasing in the right direction.
After finishing upper secondary school at home in Upplands-Väsby he chose to study the psychology programme. He played basketball as a professional before a back injury forced him to stop. He began canoeing instead. Through the canoeing club HC met his future wife Gabriella and after two and a half years of study he dropped out of university and moved with her to her native country of Switzerland. HC consulted a naprapath for his back problems. This was his first contact with one and he was immediately delighted.
"I was totally fascinated by the type of treatment, that it was possible to fix an ailment by using your hands," he goes on."
After moving back home to Sweden he trained as a naprapth. HC Holmberg began working with professional runners and the national athletics team and together with Carter Farell wrote the book "Löparens Läkarbok" [The Runner's Home Doctor]. At the same time he and Gabriella started a family and life went on.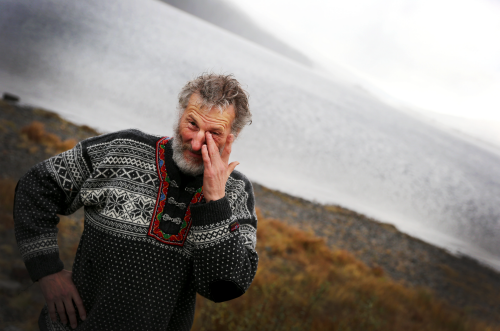 HC by the lake in Åre. Photo: Annacarin Aronsson.
Outside the canoeing season the family often went to Bruksvallarna in the provinces of Härjedalen to ski. Among others, Professor Bengt Saltin and sports journalist and cross-country enthusiast Thord Eric Nilsson were at the time working in Funäsfjällen. They represented a foundation whose ambition was to create a centre facility alongside the Nordic Ski Center, the 300 kilometres of skiing trails that link the villages in Funäsfjällen together. They wanted HC to lead the centre.
"The timing of the recruitment aligned well with that particular phase of our lives. The children were small and hadn't yet started school and we had the possibility to realise the dream of this ski centre. So we moved up here."
HC Holmberg was a strong driving force in Bruksvallarna. Between 1989 and 1995, while the family was living in the village, he was an active leader in the sports association, of which all the village children were members.
"No centre was ever built in Bruksvallarna, but we had a great time anyway." he says.
Teaching approach an international success
As naprapth for the Swedish Ski Federation and the national team, HC Holmberg has supported skiers at both the Olympics, World Championships and Swedish Championships. He ended up in a position that he himself calls "let's ask HC".
"I took charge of education and when I began skiing myself I became increasingly interested in training and the technique behind the skiing. I think it was that that made people come to me with their questions," he goes on.
While he was lining in Bruksvallarna HC developed the technique of changing gear depending on whether you are skiing up or down a lope or along flat ground or skiing fast or slowly. Using this technique, skiers can optimise their skiing.
But theory is one thing; introducing it in practice quite another. The answer appeared by itself when HC was explaining to a skier in Bruksvallarna's sports association, the son of a truck driver, how he should think.
"He couldn't manage it so I had to use metaphors. I explained that it was like when his dad changed gear while driving his truck – he should do the same when skiing depending on whether the going was heavy or light. Then the penny dropped."
A few years later the family move back to Upplands-Väsby and HC began studying the Sports Science and Coaching Programme at the Swedish School of Sport and Health Sciences, GIH. From the outset he was sure that he wanted to be a researcher rather than a coach and after graduating he began post-graduate studies at Karolinska Institutet. In 1999 he was recruited to the Swedish Olympic Committee (SOC), first as strength and conditioning adviser, later becoming head of development and today is head of training and performance.
The Swedish Winter Sports Centre is born
At the same time as HC Holmberg began at the SOC, Swedish cross-country skiing was in a deep depression; its glory days with Gunde Svan and Thomas Wassberg were over and something needed to be done to get the sport going and the results coming. Money was invested in the skiers and HC Holmberg was assigned by the SOC to get Swedish cross-country skiing back on track. Ski Federation captain Per-Erik "Peken" Rönnestrand and trainers Ola Rawald and Mattias Persson lived in Östersund and it was decided that if the best skiers also lived there this would provide the best prerequisites. This was after the Winter Olympics in Salt Lake City and before the 2003 season began.
"Sweden's current successes in cross-country skiing are a result of the work we did in the early 2000s. I seriously believe it has had an impact," HC Holmberg says.
The region and Östersund were therefore the primary location and HC Holmberg and his wife also moved there. He was awarded his doctorate at Karolinska Institutet in 2005 and was employed by Mid Sweden University the following year. At the time a project was under way on campus led by the Jämtland-Härjedalen sports federation. The sport movement had initiated an EU-funded project focusing on using sport as a regional development factor.
"To begin with we conducted tests on a small treadmill for roller skiers in a nondescript building on the outskirts of the university. The sports federation had great ambitions and wanted more and with the support of visiting professor at Mid Sweden University Bengt Saltin an opportunity was provided to create the Swedish Winter Sports Centre as a formal part of Mid Sweden University," says HC Holmberg.
"Our approach was that we were located in an attractive environment, we had the equipment, and we had many active skiers. We did a lot and had enormous enthusiasm."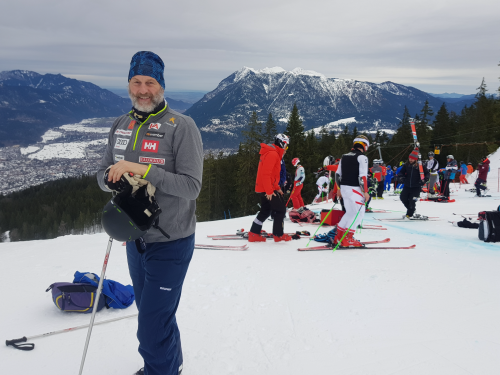 HC Holmberg with the Swedish national alpine team
at a World Cup competition in Garmisch Partenkirchen.
Slimming methods and pushchairs
Of HC Holmberg's research fields "The Östersund Method" is one of the best known, having been written about in numerous scientific journals and among other things in The New York Times and Herald Tribune. The subject of the study was weight reduction and metabolism and the method was tested for the first time in 2011. For four days 15 overweight men walked for eight hours a day with their food intake reduced to one tenth of what is normal. Over the test period they lost between three and four kilos and what was perhaps most interesting was that they had maintained this reduction a whole year later.
"Articles on the Östersund method are still being written and the Diabetes Centre in Lund is using the material from the study to try to find the substance that triggers the metabolism. It takes years to analyse everything and we're still working on this."
The first study was conducted in close collaboration with researchers in Las Palmas and the next step, says HC Holmberg, is to conduct a similar study on the Canary Islands.
He has a strong belief in international collaboration. He is visiting professor at a university in Vancouver in Canada and Professor II at the University of Tromsø in Norway. When he travels he often does so to meet other researchers and lecture.
After lunch and his second exercise session of the day he'll be returning to his 'field lab' as he likes to call it. It is located at the World Championships Arena in Åre and here he can continue with his passion – being innovative and productive. At present he is researching on sensors and technology in sporting contexts and he talks about digital arenas, event development and improving experiences. Health tourism is growing, he observes, and talks about one of the studies he is currently working on – how pushchairs can be used as digital aids in exercising.
"It's one of the first things you do as an adult, have children. Many parents stop exercising when they have children and it's an important equality issue. We're looking at exercising with a stroller. How do you for example cope with the slopes on Frösön? Can you have an auxiliary motor when you're walking uphill and a braking motor on your way down?"
With the World Championships coming to town 2019, HC Holmberg is not likely to be slowing his pace. He will turn 60 this year (2018) but has no plans to stop working. Retirement is really just a matter of switching tracks.
"I've led the centre and I've been head of subject. The question is if I'm to be something else before I begin bird-watching. I'm an entrepreneur at heart and I could just as well be a businessman."
While at the same time he says he has no problem taking it easy at times.
"Bengt Saltin always said to me: "If people only knew how much I can relax". I recognise that in myself."