The floating house in Sundsvall becomes even smarter
Contain, which is a project by Imorgon Innovation, is a floating house built entirely in wood with several smart solutions that both raise the living standard and benefit the environment. Together with STC, Imorgon Innovation has also installed sensors that measure different characteristics of the house, such as wave movements, temperature and humidity.
The collected data then can be compared with weather data to further analyze the living standard.
During the autumn of 2016, the first tenants moved into the floating house in Sundsvall - Contain. Only a few days ago, the municipality gave notice that even more floating houses can be built in the harbor. The interest in smart real estate grows as technology evolves, and as the awareness of how we influence and are affected by our environment increase. Now STC, together with Imorgon Innovation, has installed sensors that measure different properties in the floating house.
- Living in a floating house is exciting and new. The collaboration with Mid Sweden University gives us a possibility to analyze the living environment and it is a good opportunity for further development of the concept. The sensor technology is smart, energy efficient and something that do not interferes with the interior of the house, says Anders Rådberg, business developer at Imorgon Innovation.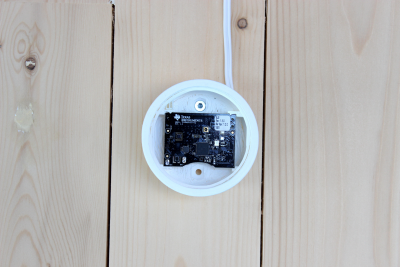 The purpose with the installed technology is to be able to analyze the measured data and compare it in relation of how people experience living in the house. The sensors measure for example temperature, humidity, wave movements and presence. The installed technology consists of commercial sensors that are already on the market and is connected to a cloud service, which allows you to upgrade the floating house (or any house for that matter) to a smart house in a relatively simple and inexpensive way.
Read more about Contain here