Meet Dr. Nejra Beganovic - New postdoc at STC
Meet our new Postdoc researcher - Dr. Nejra Beganovic. As a young girl she was very interested in technology, an interest that later took her to Germany where she completed her doctoral within the field of Structural Health Monitoring. In February 2019 she moved to Sweden together with her dog, a Maltese called Donna, to work as a postdoc in the research project SMART. In the project, Dr. Beganovic will focus her research on Internet of Things and Industrial IoT
Tell me a little about your background?
I grew up in B&H. Even from secondary school, I showed interest in technology. At that time it was related not so much to mechanics/mechatronics/electronics but to programming. However, this small projects realized in already in secondary school could be seen as the first step toward studies in electrical engineering and mechatronics in the next few years. As such, I continued the education for BSc and MSc degree at the Department of Automatic Control and Electronics of the Faculty of Electrical Engineering, University of Sarajevo. After graduation, I have started to work in industry on projects related to embedded systems and software engineering in the next two years. In July 2013, the award for full scholarship for doctoral studies achieved by DAAD (Deutscher Akademischer Austauschdienst – German Academic Exchange Service) led me to spend the next few years in Germany on a research in the field of Structural Health Monitoring (SHM). Multidisciplinary field such as SHM gave me the possibility to specialize (extend the knowledge) in signal processing, system modeling, reliability-oriented control, real-time data analysis, data analytics, and machine learning. After obtaining Dr.-Ing. degree, I returned to B&H and started to work in a company focused on the development and telecommunication system integration, mainly wholesale business revenue management. In October 2017, I got the position at the International Burch University as Assist. Prof. From February 2019, I am glad to have an opportunity to join STC group at the MIUN.
What is that you are going to focus your research on at Mid Sweden University?
Concerning previous experience in the field of electronics and embedded systems, as well as my personal interests, I would focus on the improvements introduced in Internet of Things and Industrial Internet of Things systems. In the SMART project, I would work on project part primarily focused on advanced most-efficient signal processing by terms of low power consumption, minimized latency, and intelligent partitioning of the tasks between different IoT/IIoT layers. Main aim is to raise the knowledge about smart systems taking in consideration increased demands on IoT/IIoT systems and a number of system requirements which has to be fulfilled at the same time.
Is this your first time in Sweden?
No, I was previously but for a short time and as a tourist. This is the first time to stay and live in Sweden (Sundsvall).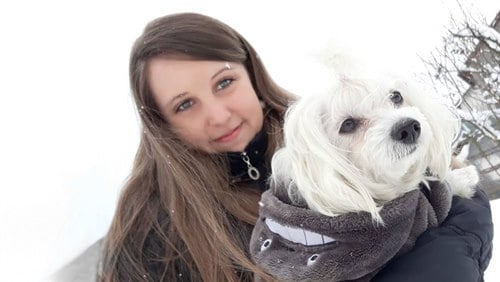 Nejra together with her dog Donna.
How do you like it so far?

First impression would be related to a cold winter (as I came in February) … Despite cold weather, I still really like the place where I am due to a few important points for me: i) a pleasant and friendly working atmosphere, ii) people who are ready to help, and iii) many pet-friendly places (what is pretty important for me as I have 2-year old maltese dog, named Donna).
How long are you staying at Miun?
One year long, as a postdoctoral researcher.
Any plans for the future?
Short-time plans are related to focusing on research at MIUN and establishing the cooperation with institutions/academic area from Sweden, as same as I nowadays have with my former host institution in Germany and doctoral thesis supervisor. The things I personally want to bring from MIUN is a new great experience, increased knowledge (but also as much as possible shared knowledge/ideas to others), and to establish the path for cooperation on perhaps joint projects one day.
At the moment, I have no long-term plans. Of course, they would highly depend on offers and possibilities I might have in one year, but I assume that it would be the time to make a final decision about the carrier at a university or in industry. At the moment, it seems to me that this decision will be postponed as long as possible but would however include research in the field for which I am specialized.