Office 365 (O365) is a cloud-based platform with tools for working anywhere and on different platforms.
It contains applications such as Word, PowerPoint, Excel, Outlook mail, and Outlook calendar, and several other tools/services, such as programs to discuss, exchange ideas, plan, collaborate and share documents.
Below are the rules and routines that apply when using O365 as well as information about the 0365 services that Mid Sweden University supports.
Overview: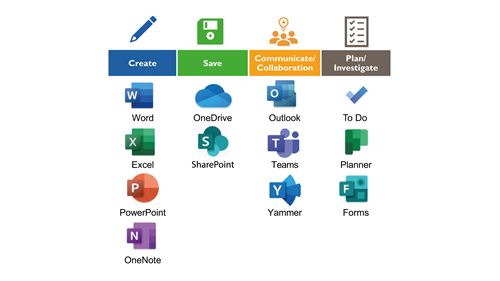 Office 365
Rules and routines for Office 365
Instructions for Teams
E-mail and Teams – archival requirements and GDPR
The General Data Protection Regulation also applies to information in e-mail, chats, etc. In principle, all messages that are accessed or sent from a user account contain at least one personal data (sender / recipient / signature, etc.). Therefore, we must, in addition to following the rules of public documents, also follow the rules of personal data processing.
Create: Word, Excel and PowerPoint



Office software for word processing, calculation and presentation.
Introduction and training
Windows
Mac
Create: OneNote – a digital notebook

OneNote is an alternative to a regular notebook. You have your own place to quickly save your thoughts, ideas and plans. If you are e.g. working in a group, OneNote is useful for the joint meeting notes.
Introduction and training – OneNote
Save: OneDrive – a personal area for saved files
OneDrive is your personal space where you can save files. You own them, but if you want, you can share selected documents with others, and in real time, together and from anywhere, work in the document and update it.
Introduction and training – OneDrive
Save: SharePoint – a common area for saved files
SharePoint is a common area where files from a team are saved. The files are shared within the team and all team members can work with the files in real time.
Create and share files – SharePoint
Video: Create, upload, and share files in a document library
Communicate/collaboration: Outlook– E-mail and Calendar
E-mail and calendar.
Introduction and training – Outlook
Communicate/collaboration: Teams – a chat-based collaboration workspace and a meeting tool
Teams is a collaboration workspace where you can create specific groups, e.g. your department (or equivalent) or for a project/work area. The group can share files and collaborate in real time, and the team can e.g. have a common Planner with tasks that need to be implemented and use Forms to create votes in the team. It is also possible to connect other external applications.
Just like in Skype, you can chat, participate in calls and online meetings in Teams.
Introduction and training – Teams
Communicate/collaboration: Yammer – a discussion forum based on areas of interest
Yammer is best described as a social network for the organization, much like the organization's own Facebook. It is built around open communication and is in many ways inspired by the large social forums we otherwise use. Compared to Teams, Yammer acts more like a discussion forum.
Introduction and training – Yammer
Plan/investigate: To do – to plan your work with to do-lists

When using To do you can plan your time with to-do lists, it is also possible to share them.
Plan/investigate: Planner – a project board in the cloud
Planner is a digital planning solution where each task is added to and distributed within the group. The data can then be followed up in a simple and clear way.
Introduction and training – Planner
Plan/investigate: Forms – a survey tool
Forms is a tool to create and conduct studies, tests and polls.
Introduction and training – Forms