Microsoft 365 (M365) is a cloud-based platform with tools for working anywhere and on different platforms.
It contains applications such as Word, PowerPoint, Excel, Outlook mail, and Outlook calendar, and several other tools/services, such as programs to discuss, exchange ideas, plan, collaborate and share documents.
Below are the rules and routines that apply when using M365 as well as information about the M365 services that Mid Sweden University supports.
Description of procedures for digital workspaces for Mid Sweden University staff
E-post och teams utifrån arkivkrav och GDPR
Overview: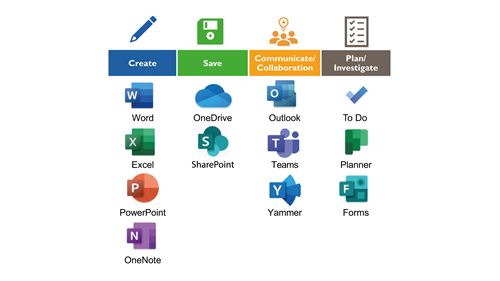 Create: Word, Excel and PowerPoint
Create: OneNote – a digital notebook

OneNote is an alternative to a regular notebook. You have your own place to quickly save your thoughts, ideas and plans. If you are e.g. working in a group, OneNote is useful for the joint meeting notes.
Introduction and training – OneNote
Save: OneDrive – a personal area for saved files
OneDrive is your personal space where you can save files. You own them, but if you want, you can share selected documents with others, and in real time, together and from anywhere, work in the document and update it.
Introduction and training – OneDrive
Save: SharePoint – a common area for saved files
SharePoint is a common area where files from a team are saved. The files are shared within the team and all team members can work with the files in real time.
Introduction and training – SharePoint
Communicate/collaboration: Outlook– E-mail and Calendar
Introduction and training – Outlook
Communicate/collaboration: Teams – a chat-based collaboration workspace and a meeting tool
Teams is a collaboration workspace where you can create specific groups, e.g. your department (or equivalent) or for a project/work area. It is also possible to connect other external applications. In Teams you can make phone calls, chat, participate in calls and online meetings.
Introduction and training – Teams
Instructions for Teams
Create breakout rooms for meetings
You see the function as a button in the meeting panel when you hold a meeting. It is only the organizer of the meeting who can see the group room button and create group rooms.